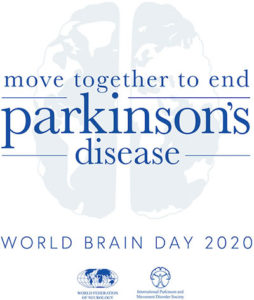 World Brain Day is July 22, 2020. This year, we are excited to announce that the World Federation of Neurology is partnering with the International Parkinson and Movement Disorder Society to raise awareness for Parkinson's disease.
There are more than 7 million people of all age groups with Parkinson's disease worldwide, and the illness affects many more than this number through its impact on families and caregivers.
Parkinson's is a chronic, neurodegenerative whole-body disease that affects movement and almost all aspects of brain function. Its prevalence continues to rise at an alarming rate, making the actions of today vital to improving the lives of those who have been and will be diagnosed.
In order to meet our goal to diagnose earlier, treat more efficiently, and improve the lives of those living with this disease and of their caregivers, additional resources are needed to help better understand and treat Parkinson's.
COVID-19 is a dramatic reminder that health care is a global issue. Let us remember that Parkinson's disease is also a daily challenge faced by all ages and people, mainly by the elderly.
We hope you'll join us and help spread the word by following the World Federation of Neurology on Twitter and Facebook.
Prof. William Carroll
WFN President