By Dr. Prisca-Rolande Bassolé
I am Dr. Prisca-Rolande Bassolé, a young neurologist, epileptologist, clinical neurophysiologist, teaching and research assistant in neurology at El Hadj Ibrahima Niasse private University / College of Medicine Saint Christopher Iba Mar Diop of Dakar, Senegal.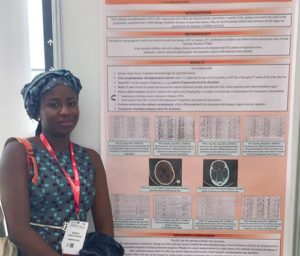 I had a great honor to participate in the 13th European Congress on Epileptology (ECE) in Vienna, Austria. I'm grateful to the World Federation of Neurology for supporting my attendance at this international congress.
The conference was held Aug. 26-30 at the Messe Wien Congress Center in the beautiful city of Vienna.
During my training in neurology, I developed an interest in epileptology so it was a personal, educational, and impactful experience for me.
I appreciated all of the topic sessions, especially those on epilepsy in childhood, the gut microbiota and epilepsy: is there a link?, clinical neurophysiology, epilepsy and stroke, can we do better? I also enjoyed the teaching courses that I attended. They included how to diagnose epilepsy, which helped me to enhance my knowledge of epilepsy.
I presented my abstract, ''Early Epileptic Encephalopathies with Suppression Burst'' Aug. 27. The abstract presentation afforded me the opportunity to meet other specialists in epileptology and clinical neurophysiologists, working on similar research areas.
Discussing with them made us develop other research topics that could help improve the diagnosis and follow-up of our patients, particularly in developing countries.
Thank you to my mentor, Prof. Mansour Ndiaye, who supported my application. Thank you again to the WFN for giving me this international scientific opportunity. •