By Jorge J. Llibre Guerra
The 2018 Alzheimer's Association International Conference (AAIC) was held in July in Chicago, Illinois. The AAIC is the largest and most influential international meeting dedicated to advancing dementia science. Each year, AAIC convenes the world's leading basic science and clinical researchers, next-generation investigators, clinicians, and the care research community to share research discoveries that will lead to methods of prevention and treatment, and improvements in diagnosis for Alzheimer's disease.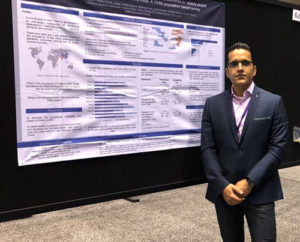 The AAIC was followed by the 33rd International Conference of Alzheimer's Disease International meeting organized by the Alzheimer's Disease International Society. This meeting is the place for gathering all of the regional and country societies from all over the world, making it possible to develop regional collaboration and advance the development of international policies in dementia.
This year, it was a great pleasure to receive the WFN Junior Traveling Fellowship, making it possible to attend the lectures and discussions on ongoing research projects in both meetings. This was also a unique opportunity to make new contacts and expand collaboration. It was also an honor to have and actively participate in the meeting and present the results of our ongoing research project as oral and poster presentation.
Presentations included:
Oral Presentations: African Admixture: Implications for Cognitive Decline in AD. ISTAART Diversity and Disparities Professional Interest Area leadership. Ancestry Background: Implications for Cognitive Decline and Mortality in Dementia.
Poster Presentation: Prevalence and Incidence of Mild Cognitive Impairment and Dementia in Older Frailty in Latin America, China and India. a 10/66 Population Based Survey.
The projects presented during the conferences are also the result of teamwork and collaboration. I would like to acknowledge our research team for the accomplished results. In overall, attendance to both meetings was successful and helpful for my future development as a clinician and researcher. Knowledge acquired during the conference and the newly develop collaborations will improve future research projects.
Finally, attendance of the Congress was supported by the WFN, and I want to share my gratitude to the WFN for this great opportunity. Thank you also to the WFN staff and leadership for their support. The WFN Junior Traveling Fellowship is a unique opportunity to create access and share experiences among junior researchers. •
Jorge J. Llibre Guerra, MD, MSc, is from the National Institute of Neurology in Havana, Cuba.