By Dr. Alagoma Iyagba
The 2018 Peripheral Nerve Society Meeting took place July 21-25 in Baltimore, Maryland.
It started with an all-day educational course (basic and clinical aspect of peripheral nerve and neuromuscular diseases). The conference proper started July 22. It featured plenary sessions, oral poster sessions, poster sessions, and industry sessions. (These took place at the end of each day.)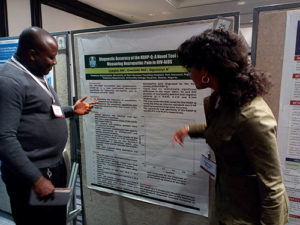 The meeting afforded me the opportunity to see groundbreaking and cutting-edge research on diseases of the peripheral nerve and neuromuscular disorders.
I had two poster presentations:
– Development and psychometric properties of the HANP-Q: a new instrument for measuring neuropathic pain in HIV-AIDS (Poster 13).
– Diagnostic accuracy of the HANP-Q: a novel tool for measuring neuropathic pain in HIV-AIDS persons (Poster 25).
The presentations were well received. The questionnaire was said to be simple to understand and easy to apply in clinical and research settings. Suggestions for future research include doing an external validation of the questionnaire.
The conference afforded me the opportunity to network with colleagues. Of special mention are Prof. Mary Reilly, Dr. Alexander Rossor, and Dr. Mohammed Mahdi-Rogers (all from the Center for Neuromuscular Diseases at King's College in London), Prof. Hans-Peter Hartung (Germany) and Dr. Catherine Mamah (U.S.). They were all excited at my attending the meeting and gave me encouragement and guidance for the future.
On the fourth day of the conference, we had the Annual General Meeting. When the map of participating countries was projected, I was the only participant from Africa save for some South Africans.
On the last day of the meeting, I was part of the inaugural meeting (foundation member) of the Toxic Neuropathy Consortium of the Peripheral Nerve Society, which was initiated by Prof. Guido Cavalleti (Milan, Italy) in February 2018.
On the whole, the meeting was an eye opener for me with respect to this very rare field of neurology in Africa. It has exposed me to the state of the art and science of peripheral nerve and neuromuscular diseases.
I am grateful to the World Federation of Neurology and the Education Committee for selecting me for this travel fellowship. •
Dr. Alagoma Iyagba is from the Neurology Unit, Department of Internal Medicine at the University of Port Harcourt Teaching Hospital, Nigeria University of Port Harcourt in Port Harcourt, Nigeria.