By Dr. Nourelhoda Haridy, MD, PhD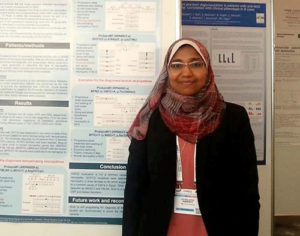 I received the opportunity to present my research of the PhD thesis as a poster titled, "Clinical and Genetic Analysis of Hereditary Neuropathy in Egyptian Population" at the 15thInternational Congress of Neuromuscular Diseases (ICNMD 2018) July 6-10 in Vienna, Austria.
I was awarded the Junior Traveling Fellowship 2018 by the World Federation of Neurology (WFN) with an amount of GBP 1000 toward the travel to Austria.
I am working in the field of neurogenetics and focus on genetic and clinical analysis of different neurological disorders in Egyptian patients. Participating in this international congress was very helpful for me in many aspects. I benefitted from the exposure to my research field and I was provided with an opportunity to learn about different aspects of genetic disorders that affect the neuromuscular system. This helped me in the genotypic and phenotypic correlation of these cases.  Also, it provided me with the basics that we need to establish clinical trials for such disorders. I was able to interact with many neurologists worldwide and established some communication with those working in same area of interest. I am thankful to my supervisors in Egypt (Prof. Sherifa Hamed for her continuous support with necessary requirements and Prof. Abdel Hameed for his encouragement) and to my U.K. supervisor (Prof. Houlden for giving me the opportunity to train in his neurogenetics lab).
I want to express my gratitude and happiness for this great opportunity. Great thanks and best wishes to all members of WFN. •
Dr. Nourelhoda Haridy is assistant lecturer of Neurology in the Department of Neurology and Psychiatry, Assiut, Egypt, and honorary research associate in the Department of Molecular Neuroscience, Queen Square, London, U.K.