By Prof. Serefnur Ozturk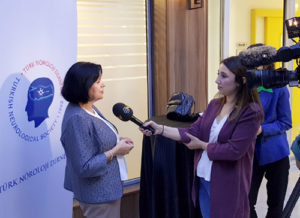 The Turkish Neurological Society has been celebrating World Brain Day since 2014. Every year, we follow WFN guidelines and create public awareness by organizing meetings, public service announcements, and newsletters. This year, we partnered with İstanbul, Besiktas municipality, and organized a meeting about this year's theme "Migraine: The Painful Truth."
The meeting took place on July 22, World Brain Day, and was open to public attendance. Migraine is a common disorder in our population (reported as one of five women and one of 10 men). Banners were distributed throughout İstanbul promoting the meeting along with powerful support by social media and the national press.
We appreciate the WFN for supporting societies with toolboxes and webinars every year. We also encouraged our members to organize World Brain Day events, and this year, many meetings were held across Turkey. Furthermore, we collaborated with the International Headache Society to increase awareness for migraine.
Prof. Serefnur Ozturk is president of the Turkish Neurological Society.