By Osigwe P. Agabi, MBBS (BENIN), MWACP, FMCP
Undertaking my residency training in neurology in Nigeria had its advantages. I got to learn and practice in a culture where my expertise would be deployed, and the diversity and sheer number of neurological cases and conditions enabled me to hone my clinical skills. The training also afforded me the privilege of providing answers (and some succor, I hope) to patients whose conditions had been undiagnosed or misdiagnosed, cursorily attributed to "spiritual" forces in the absence of a logical alternative explanation. This was enabled by the increase in availability of some technologies, including brain imaging and support laboratory diagnostics for those who could afford them.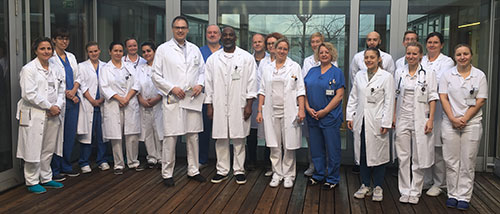 Despite these, however, one gaping void was the absence of expertise and technology for electromyography and nerve conduction study (EMG/NCS) testing. Four decades prior was the last time my training center had functioning EMG/NCS, and the combination of competing financial commitments and lack of expertise ensured this was not revived.
That was until early 2018, when a good natured alumnus donated EMG equipment and conducted a preliminary workshop that whet my appetite. About the same time, serendipity brought my mentors together at the EAN regional teaching course in Ouagadougou, and discussions ensued that culminated in the opportunity to begin my formal training in EMG/NCS in Austria.
As I sat down on the Lufthansa flight bound to Vienna from Lagos, Nigeria, my thoughts wandered. What would Austria be like? What will this experience be? Will I achieve my objectives? Will the weather be kind? Will I have problems communicating, as I speak no German?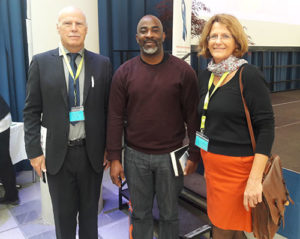 I reached for my phone and looked down at the pictures of Profs. Walter Struhal and Wolfgang Grisold I had downloaded before the journey. It was this duo of renowned neurologists who had graciously agreed to offer themselves to train me in nerve conduction studies and electromyography at no cost that informed this journey. I thought about my family and the neurology unit back at the Lagos University Teaching Hospital in Nigeria. I thought most especially about my teacher, mentor, and boss, Prof. Njideka Okubadejo who had given her all to the actualization of this dream and how lucky I was to have her. I was still in this train of thought when I was jolted into consciousness by the air hostess who was waiting to take my order of refreshment.
I arrived in Vienna and headed straight for the University Hospital in Tullin where Prof. Struhal is head of neurology. Prof. Struhal is a kind gentleman with a calm disposition. I was taken to my apartment that contained most of what I was going to require for the period of my stay.
The next day, I was formally introduced to the neurology department and completed some administrative formalities. Every morning, there was a presentation of all patients, new and old, by the consultants with their relevant investigations and neuroimaging. I looked forward to this exercise every morning not only for its robust intellectual nature but also for the demonstration of genuine patient empathy. I was received warmly by all. I observed the team spirit, astute dedication to duties of all, both young and old.
The synergy between doctors, nurses, and other support staff was exemplary. I worked closely with Drs. Andreas Seiser and Brigit Riemer who were the neurologists in charge of neurophysiology. They walked me through the rudiments of NCS and EMG. They loved to teach and made the process seamless. I cannot forget the patients who offered themselves freely to this exercise so I could learn. I was glad to observe sessions of transcranial magnetic stimulation, fiber-optic endoscopic evaluation of swallowing, and some autonomic nerve testing, among others.
Twice every week, I commuted by train to Vienna to catch up with Prof. Grisold in his private practice. In his office, he laid bare nerve conduction and electromyography. He taught with uncommon dedication and passion, making sure I had an untainted understanding of the concepts. He taught me many secrets that only years of practice could bring. He had sessions with me as the patient. It is a great privilege to have been tutored by him. I will forever remain grateful.
Prof. Grisold wanted me to broaden my horizons on my many spheres of neurology. He reached out to many of his colleagues, including Dr. Stefan Meng, a radiologist with expertise in nerve and muscle ultrasonograpy. Dr. Meng was warm and highly knowledgeable, yet humble. He had some teaching sessions with me at the KFJ hospital in Vienna. Before this experience, nerve and muscle ultrasonography was a distant reality for me.
I also had the rare privilege of visiting Prof. Michaela Auer-Grumbach, a renowned neurogeneticist who added the icing on the cake for me. Before long, my 32-day visit had come to an end.
I am overwhelmed by the unconditional kindness, efforts, and support of Profs. Struhal and Grisold for bringing this dream to reality. This experience has awakened in me a restlessness to develop that which I have acquired and to impart to others after me. Yes, St. Augustine was right when he opined that "the world is a book, and those who do not travel read only one page."
Osigwe P. Agabi, MBBS (BENIN), MWACP, FMCP, is a consultant physician and neurologist in the neurology unit of Lagos University Teaching Hospital in Nigeria.