Montréal tops the rankings of host cities in the Americas for most international conferences1. Its attractions and qualities have made it a go-to location for business and leisure travellers. As one of the largest hubs for neuroscience in Canada—240 neuroscience professionals and over 40 companies related to neuroscience, Montréal is a first-rate destination for all with a passion for innovation, understanding the brain and treating patients with neurological disorders.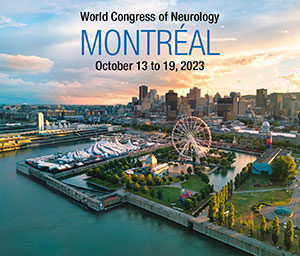 Together with the Canadian Neurological Society (CNS), generous funding for travel grants by the city's convention community will enable a record number of scholars and fellows from emerging economies, such as Latin America and Africa, to attend this major event.
In order to foster innovative care and research on a global scale, The Neuro—McGill University's Montreal Neurological Institute and Hospital—will make its open data platforms available to the members of the WFN and help identify potential Canadian collaborators. Founded by Dr. Wilder Penfield, The Neuro is a world leader in the field and has a rich history of welcoming the international neuroscientific community—trainees, researchers and clinicians alike. A pioneer, The Neuro is the first Open Science institute in the world, helping accelerate new therapy research and solutions.
The WCN 2023 will also be an opportunity to expand the annual grants and awards program the CNS jointly administers with the World Federation of Neurology. A new program being developed will focus on colleagues from Sub-Saharan Africa.
Montréal is a smart choice for WCN 2023. Recognized as Canada's research and higher education capital, the city has 1,500 institutions active in R&D, 200 research centres, 11 higher learning institutions including four major universities, and two academic health centres—neurology from pediatric to adult, from general to highly specialized—making it a high-tech, artificial intelligence, health and life sciences hub. Among the Top 20 safest big cities in Canada and the United States2, Montréal also enjoys one of the most vibrant urban scenes, thanks to its numerous world-class festivals, international cuisine, legendary hospitality and European flair. It is home to a richly multicultural community where 100 languages are spoken. Easily accessible and practical, it is only 20 minutes from the airport, which services 150 direct flights from North Africa, the Middle East, Asia, Latin America, Europe, and North America. The wide range of downtown accommodations includes 16,000 hotel rooms within a 10-minute walk from the city's convention centre, 4,000 of which are directly linked to the centre. Its proximity to 90 million Northeastern Americans less than a two-hour flight away, or within driving distance, means even more students, young researchers, and clinicians can attend the congress. Participants will be able to partake in technical tours of The Neuro and several other university and hospital sites during their stay in Montréal. Success, innovation, and expertise await you in Montréal. October is when the city really shows its true autumn colours.
References
Union of International Associations 2017/2018
FBI & Statistics Canada 2018