An outreach of care. The way forward.
By Dr. Bindu Menon MD, DM, and Dr. Medha Menon, MBBS
As goes the epidemiological transition from communicable to non-communicable diseases (NCDs), India stands at the precipice of having to balance the burden of both. While managing communicable diseases like a wound that has not yet scabbed, the rising trends of NCDs like stroke, cardiovascular events, and cancers further predispose the population to infections, making them difficult to curb.
The rapid rise in cases of NCDs requires its own scrutiny and care. The seemingly sudden increase in cases is a result of efficient screening services as well as the culmination of a lifetime of unhealthy lifestyle habits. One in four Indians risk dying from an NCD before they reach the age of 701. Of the NCDs, neurological disorders, such as stroke, epilepsy and dementia, are the major contributors to the global burden of disease. Often presenting with relatively subtler signs as compared to cardiovascular events, they tend to go unaccounted for, making it even more prudent for its detection and treatment. Of the cases coming under our radar, the prevalence of neurological disorders in India, which is more in rural areas, ranges from 967-4,070 with a mean of 2,394 patients for a population of one million2.
Stroke is a major medical emergency that causes lifelong repercussions to a patient without timely medical care. The current incidence of stroke in India is much higher than western industrialized countries3.
India's population has been set to overtake China's by the end of April 2023, reaching 1,425,775,8504 with an overwhelming majority of 65% residing in rural India5.
Despite India having achieved the WHO-recommended doctor-patient ratio of one per thousand6, the lack of medical practice in rural areas shrouds their medical needs. With just over 2,500 neurologists, the reality is that a single neurologist caters to the medical needs of more than five million population. This ridiculous neurologist-patient ratio makes it nearly impossible to assure delivery of timely medical services to all. With increased medical facilities concentrating in cities, the urban-rural divide further widens.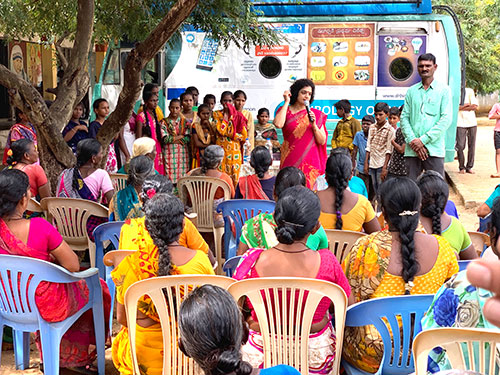 Our job as service providers makes it our responsibility to look at the various factors that contribute to the meager medical attention received in rural areas. A deep dive into the conversations with the locals brings to light how awry education, economic constraints, and misguided prioritization contribute to this. Often the locals say, "I don't have high blood pressure, I feel absolutely fine," in response to showing them their chronically elevated levels, sometimes touching 200/120, or "I stopped my medications because I haven't had a seizure in a while," when asked why they were not compliant to medication, and sometimes, "I thought the paralysis of my face and hands were due to high sugars," when asked why they didn't go to the hospital for treatment. However, most times, they do have genuine reasons for not availing medical services. More often than not, their nearest hospitals are almost 100 kilometers away, which increases the time lost to treat any emergency as well as cost of travel which the family cannot bear. But of all, the most important factor would still be the lack of awareness about the disease at hand. This lack of awareness includes not knowing the symptoms of the disease, the importance of timely diagnosis and treatment, maintenance of drug compliance, complications of the disease, and how all of this will affect their livelihood. It is important because trying to eliminate this root cause empowers the people to identify their problem and take necessary steps as well as contribute to the decision making of their treatment. Once they make their first step to availing treatment, we can meet halfway to provide them with medical services.
We now see that it is not just the lack of medical services that increases disease burden in rural areas. Thus, a combined approach is deemed most useful to tackle the problem at hand. We must address the lack of awareness, the monetary constraints as well as lack of on-site medical services to effectively curb the problem.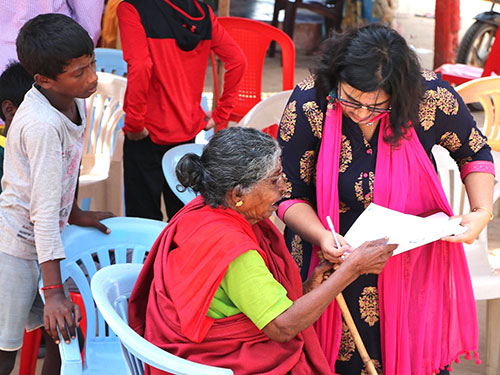 For this reason, with the goal of raising awareness as well as providing free medical services in the resource-poor and remote rural sector, a novel project "Neurology on Wheels," a first-time project by the Dr. Bindu Menon Foundation was started in Nellore, Andhra Pradesh, India. This project identifies a village from the 46 mandals by random selection. The team of the foundation then visits the village after the village head has been informed about the camp in advance. The village sarpanch is also asked to prime the ASHA/ Anganwadi workers/ANM (local women trained to act as health educators and promoters in their communities) for efficient coordination.
The motto followed is, "We reach, we teach, and we treat." Upon reaching the village, an awareness program is held for all the people attending the camp. The talk is tailored to risk factors of stroke and recognition of its symptoms, epilepsy and its prevention, and the role of regular compliance of medicines. This way the practice of a holistic approach to healthy living is encouraged with the need to focus on dietary, exercise, and drug compliance.
Later, a free medical camp is held where screening and detection of hypertension, diabetes, epilepsy, and stroke is done, at the end of which the patients are distributed medicines. This way, new NCDs are detected, and early intervention is done to derail the original trajectory of a dangerous disease to a more controlled one. With the risk factors evaluation, the public is counseled regarding their stroke risk according to the stroke risk card. Furthermore, drug naïve stroke and epilepsy patients who are below the poverty line are incorporated into the foundation for their free medicines. This way, we can inch forward slowly to closing the treatment gap.
Neurology on Wheels is a project with potential to extrapolate to larger scales. Our team is limited, but with proper resources and manpower, it can provide as a mighty tool to bridge the urban-rural divide prevailing in India.
This project has covered 44 villages and has detected more than 416 new cases of hypertension, 133 of diabetes, 109 of untreated epilepsy, and 143 of stroke, which might not seem like a huge chunk off the actual burden of disease. However, humanizing these numbers shows us with extreme perspicuity how this project has imparted the much-needed help and treatment services to these patients who would have otherwise contributed to the ever-growing treatment gap of NCDs in rural India. •
Dr. Bindu Menon MD, DM, and Dr. Medha Menon, MBBS, are with the Dr. Bindu Menon Foundation in Nellore, Andhra Pradesh, India.
References:
Gourie-Devi M. Epidemiology of neurological disorders in India: review of background, prevalence and incidence of epilepsy, stroke, Parkinson's disease and tremors. Neurol India. 2014 Nov-Dec;62(6):588-98. doi: 10.4103/0028-3886.149365. Erratum in: Neurol India. 2016 Sep-Oct;64(5):1110-1. PMID: 25591669.
Kamalakannan S, Gudlavalleti ASV, Gudlavalleti VSM, Goenka S, Kuper H. Incidence & prevalence of stroke in India: A systematic review. Indian J Med Res. 2017 Aug;146(2):175-185. doi: 10.4103/ijmr.IJMR_516_15. PMID: 29265018; PMCID: PMC5761027.
India to overtake China as world's most populous country in April 2023, United Nations projects
Kumar R, Pal R. India achieves WHO recommended doctor population ratio: A call for paradigm shift in public health discourse! J Family Med Prim Care. 2018 Sep-Oct;7(5):841-844. doi: 10.4103/jfmpc.jfmpc_218_18. PMID: 30598921; PMCID: PMC6259525.