By R.S. Jain, MD, DM Neurology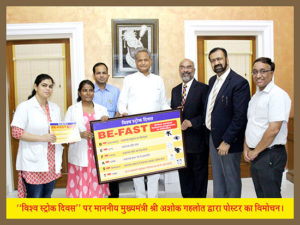 It is always a Herculean task to educate the illiterate in large numbers with limited resources in the biggest and most prestigious government medical college institution of the state like ours. Two posters on World Stroke Day were released by Hon. Chief Minister of Rajasthan State Shri Ashok Gehlot.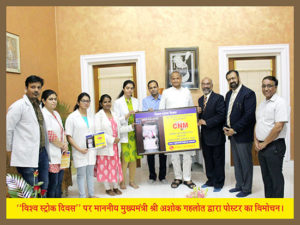 An exhibition for public education was organized by the Department of Neurology and was inaugurated by Principal Prof. Dr. Sudhir Bhandari and Medical Superintendent Prof. Dr. D.S. Meena.
The posters were prepared in Hindi (the local language) with photographs explaining types, causes, risk factors, treatment, and prevention of stroke. They were displayed in a big Registration Waiting Hall of the OPD block involving more than 10,000 patients every day. There was a continuous display on eight big hanging TV screens in the hall as well.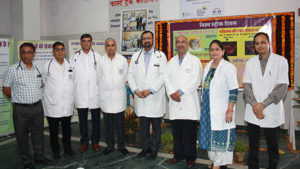 Brain models were displayed for better understanding by the general public. Pamphlets and folders in simple Hindi providing information about various aspects of stroke were also distributed. All of this was nicely covered by the media. News was published Oct. 30, Nov. 2, and Nov. 4, 2019, in the leading Hindi newspaper of the state "Rajasthan Patrika." TV channels also covered this public awareness event.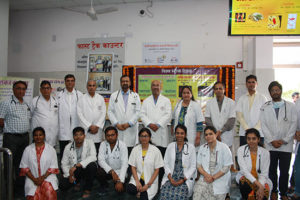 We have a Cardio Neuro Medicine Centre (CNM) located in the emergency department with availability of a neurologist and cardiologist 24 x 7 to deal with acute stroke especially for thrombolysis during the therapeutic window period. We also have a well equipped DSA lab with facility for all types of neurointerventional procedures including stenting and coiling.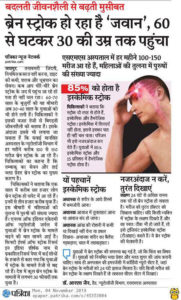 This activity was also beneficial in sensitizing postgraduate students of medicine and neurology handling stroke cases especially in view of the upcoming Stroke ICU in our institution. •
R.S. Jain, MD, DM, is the senior professor and head of the Department of Neurology, at SMS Medical College and Hospital in Jaipur Rajasthan, India.