By María Eugenia Briseño Godínez
I am a resident of neurology at the National Institute of Neurology and Neurosurgery in Mexico City. I had the privilege to be selected for the WFN Department Visit Program 2019 in Canada. I did an observership for a month in the Montreal Neurological Institute. There, I chose to be in the two services that interest me the most as a training neurologist: epilepsy and neuromuscular.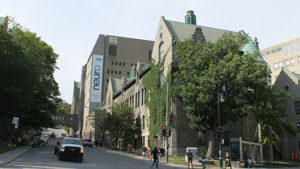 The first two weeks I was under the tutoring of Dr. Kobayashi, who not only was kind but also shared her knowledge about the treatment of patients with epilepsy. This allowed me to spend some time in the epilepsy monitoring unit; there I saw how important it is for the management and diagnosis of the patient to have the right infrastructure.
During the last two weeks, Dr. Massie accepted me in the neuromuscular unit. There, I was impressed when I saw how the ALS clinic was organized; every patient attended there receives an amazing multidisciplinary care that impacts positively on their life quality. This example of care made me feel really motivated.
In conclusion, this experience was valuable to me, because it allowed me to see and learn how neurology is practiced in a place with all of the resources. It represented a life example that will improve my knowledge as a future neurologist and the way I will treat patients in my country.
This opportunity was mind opening and for sure will be for future residents. There is nothing but gratitude to this kind of program and to the people who made it possible. •