By Dr. Meriem Aoufi
Thanks to the World Federation of Neurology (WFN) for the German department visit grant, I have spent four weeks in the department of Prof. Helmuth Steinmetz in the Goethe University Johan Wolfgang Hospital in Frankfurt.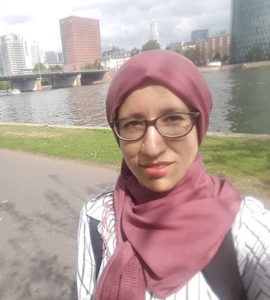 During my stay, I trained for two weeks in the comprehensive stroke care unit (20 beds) and for another two weeks in the epilepsy video-EEG-monitoring unit (8 beds).
In my hospital, where I am a resident in my fourth year, we don't have a stroke unit, and thus we refer these patients to other hospitals with stroke units. We also don't have video-EEG monitoring. Therefore, it was a great opportunity for me to acquire knowledge and skills in acute stroke management and vascular secondary prevention as well as complex epilepsy differential diagnoses and presurgical workup to select patients who are candidates to undergo surgery for refractory epilepsy.
Prof. Steinmetz and his team were nice and friendly, and although the language was a bit difficult for me, they were so kind to explain to me. Thanks to the team, I have learned novel skills and knowledge to bring home and also had friendships that will last hopefully a lifetime.
Frankfurt is a beautiful and prosperous city. One can spend one's free time in numerous parks, museums, or especially near the Main river.
I highly recommend my colleagues to apply for these grants, and I am very thankful for this opportunity. •
Dr. Meriem Aoufi is a resident in her fourth year at the EHS Ben Aknoun, Algiers, Algeria.