Four European cities are bidding to host the World Congress of Neurology 2021, an international conference focused on advancing the diagnosis and treatment of neurological disorders. In this issue, World Neurology publishes four articles written by neurology organizations and professionals about why WCN 2021 should take place in Copenhagen, London, Marseille, or Rome.
By Prof. Gunhild Waldemar and Jesper Erdal
We are happy to present Copenhagen as the possible host city for the World Congress of Neurology 2021.
Denmark and Scandinavia
The Danish Neurological Society (DNS) was founded in 1900, and is probably the world's oldest neurological society. Although mature of age, DNS is an active and lively society that in recent years has attracted a lot of dedicated young doctors.
Leading Danish neurologists have been active in international neurological societies for many years, including Prof. Jes Olesen, Prof. Per Soelberg Sørensen, and Prof. Gunhild Waldemar, who we propose for Congress president for WCN 2021.
Greater Copenhagen is a world leader for research and development pending, clinical testing, and drug development. It comprises four life science universities with 50,000 students producing 2,000 PhDs every year, more than 150 biotech and 200 medtech companies as well as 11 university hospitals, leading researchers, clinicians, and academics.
The neurological communities in Scandinavia are closely linked and cooperate both clinically and academically. We are proud to have the full support of our friends and colleagues in the Swedish Neurological Association and the Norwegian Neurological Association.
Nordic Style
Copenhagen is a truly charming city with a distinct Nordic, cool style. It is famous for its many old buildings mixed with modern prize-winning architecture, new Nordic gastronomy, and green environment, with numerous bicycles. Copenhagen is a clean, safe city that has been voted the most livable city numerous times.
Copenhagen has the main hub airport in northern Europe and an outstandingly good infrastructure. It takes only 12 minutes to travel from the airport to city center by the inexpensive metro.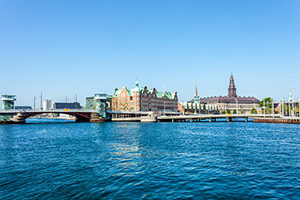 Bella Center
If Copenhagen were to win the bid, WCN 2021 would be held in October at Bella Center Copenhagen, Scandinavia's leading and largest congress center. It is conveniently situated between the airport and the city center, only 10 minutes away from both downtown Copenhagen and the airport.
In recent years, Bella Center has been the venue of several large international medical congresses.
Reaching Out to the Public
We will strive to make new knowledge from WCN 2021 known to the public and to the health care authorities by collaborating closely with local and international media, patient organizations, and through various outreach activities.
The goal is to increase the public awareness of the frequent and often disabling neurological diseases, and the many new possibilities for treatment, rehabilitation, and care.
Academic-Industrial Cooperation
We wish to help create a congress in Copenhagen that promotes academic-industrial dialogue. This is crucial because of the obvious co-dependence. Along with the WFN, we will draw upon our international industrial networks to build a solid collaboration, both before, during, and after the congress. With an uncompromising focus on high academic quality, we wish to attract industrial participants and to help include relevant industrial themes.
Trainees, Young Neurologists, and Young Researchers
The congress in Copenhagen should serve as a hub for networking among young researchers, trainees, and young neurologists. Our goal is to support and help develop the work of the WFN International Working Group of Young Neurologists and Trainees. In connection with the WCN in Copenhagen, we will give young neurologists the opportunity to visit Danish neurological departments and research groups. The Danish Association of Young Neurologists will help take good care of our young foreign colleagues.
Our aim is creating friendship and international clinical and scientific networks that can last for years and develop further over time.
Support for Colleagues
It is important for our colleagues from low-income and low-middle income countries to have the opportunity to participate in the WCN 2021. Lundbeck Foundation has therefore offered to donate 50 bursaries of 1,000 euros ($1,100 U.S.) each to neurologists from low-income and low-middle income countries.
The Danish Neurological Society offers to donate half of the society's profit from the congress to the World Federation of Neurology educational programs.
Welcome to Copenhagen in 2021
We sincerely hope to have the opportunity to welcome you to Scandinavia and Copenhagen for the World Congress of Neurology 2021. We will do our utmost to ensure that the congress will be a success, and that each and every delegate will have an exceptional and unforgettable visit.
Written on behalf of the Danish Neurological Society by Prof. Gunhild Waldemar and Jesper Erdal, president of the Danish Neurological Society.