by Chandrashekhar Meshram, Pramod Kumar Pal, Gagandeep Singh, Nirmal Surya, Vinay Goyal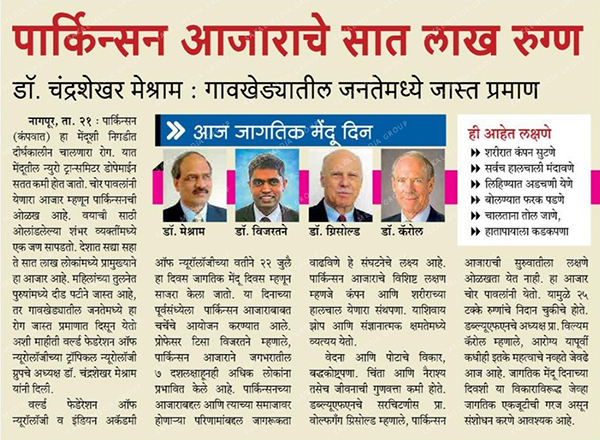 The theme of this year's World Brain Day, "move together to end Parkinson's disease," is very relevant for patients, their caregivers, family physicians, and the general public, and therefore there was a lot of excitement about the event. World Brain Day was cerebrated throughout India on July 22. Due to the COVID-19 pandemic, auditorium or field programs could not be organized, so the campaign was mainly through print and electronic media with virtual meetings in different cities of the country.
Mumbai
A World Brain Day awareness program was organized as a webinar by the Indian Academy of Neurology (IAN) and the Epilepsy Foundation and Movement Disorder Society of India (MDSI). The secretary of IAN, Dr. Gagandeep Singh, made introductory remarks and introduced the faculty for the event. Dr. Tissa Wijeratne, chair of World Brain Day, inaugurated the event by lighting a lamp. He also mentioned that though Parkinson's disease was first described in modern literature by James Parkinson, ancient Indian physician Sushruta had mentioned it as Kampa Vata a few thousand years back and suggested treatment for it. He said there is a lack of awareness about this disease even in developed countries, so this theme was chosen.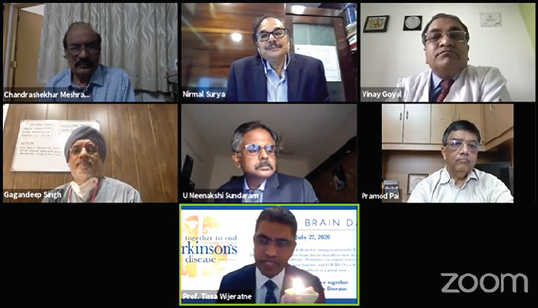 Dr. Pramod Kumar Pal, president of IAN and a movement disorder specialist, mentioned that there are many young Parkinson's patients in India and there is a need of epidemiological study of Parkinson's disease. Dr. Vinay Goyal, president of MDSI, said that the major problem is delay in diagnosis due to lack of awareness about this disease. Dr. U Meenakshi Sundaram, secretary of MDSI, presented interesting statistics about Parkinson's disease. Dr. Chandrashekhar Meshram, convener of National Brain Week and World Brain Day, stressed the importance and ways of celebrating WBD. Dr. Nirmal Surya, chairman of the Epilepsy Foundation and treasurer of IAN, who took initiative to organize this event, made the closing remarks and answered questions. Dr. Nirmal Surya also posted a video on the WFN website.
Nagpur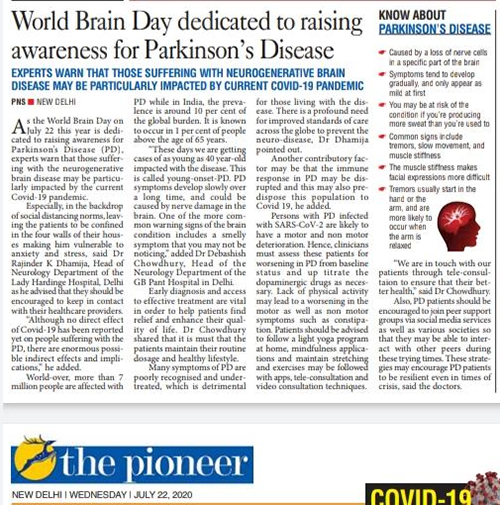 Dr. Chandrashekhar Meshram issued the press release. Information about Parkinson's disease appeared in nine newspapers. The awareness program was organized by Indian Academy of Neurology, Nagpur Neuro Society, Nagpur Psychiatry Society, Orange City Cultural Foundation, and Saptak as a webinar on July 22. The event was inaugurated by Dr. Lokendra Singh, president of the Neurological Society of India. Dr. Meshram explained clinical manifestations of Parkinson's disease through videos. Neurologist Dr. Dhruv Batra explained available treatment options for better day-to-day activities. Psychiatrist Dr. Sudhir Bhave highlighted various psychological problems in patients with Parkinson's disease and how to cope with them. Jayashree Pendharkar explained the role of proper diet in these patients. Dr. Sheetal Mundhada showed various exercises for these patients through a video demonstration and emphasized the role of yoga, physiotherapy, and various exercises for a better life. Dr. Nitin Chandak answered questions from the audience. Dr. Kajal Mitra, dean of NKP Salve Institute of Medical Sciences, announced that the chairperson of the Institute, Ranjeet Deshmukh, will sponsor one deserving patient every year for deep brain stimulation (DBS). About 500 people attended the webinar.
Trichy
Neurologist Dr M. A. Aleem's interview on Parkinson's disease was published in the newspaper.
Delhi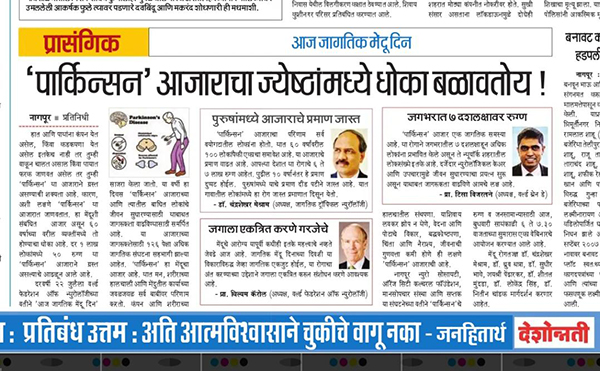 A World Brain Day event was organized by the neurology departments at Lady Hardinge Medical College and SK Hospital. Prof. Rajinder K. Dhamija, head of the neurology department, published an op-ed piece, titled "Mind the Brain: It Is High Time to Act Now" on the editorial page of Daily World. He was also interviewed about World Brain Day and Parkinson's disease by Poineer. Dr. Rajinder K. Dhamija also appeared on national television (DD News) in addition to All India Radio's special program, Surkhiyon Mein, to discuss World Brain Day.
At Agrim Institute of Neurosciences, Dr. Manish Mahajan gave a talk on Parkinson's disease and its management.
Chennai
Dr. E. S. Krishnamoorthy was interviewed by Sunalini Mathew for the paper The Hindu.
Nellore
On the occasion of World Brain Day, Dr. Bindu Menon, head of the neurology department at Apollo hospitals in Nellore, and Andhra Pradesh delivered a lecture titled "Know About Parkinson's Disease," followed by a question-and-answer session. The Parkinson Disease Movement Disorder Society (PDMDS), which has 60-plus centers in India with 40,000-plus beneficiaries, conducted this event. Dr. Bindu Menon thanked Prof. B. S. Singhal, the founder and honorary secretary of PDMDS, and their team on behalf of the Nellore branch of the PDMDS support group. The meeting was held in the Telugu language to both Andhra and Telangana state participants. Dr. Bindu Menon spoke about symptoms and signs, diagnostic approaches, and different treatment modalities of Parkinson's. There was excellent interaction. The session concluded with a note of thanks by Dr. M. Barretto. •