Lessons Learned From Janakpuri Super Speciality Hospital Society in New Delhi, India
By Dr. Man Mohan Mehndiratta, Dr. Amrita Tiwary Vyas, Dr. Natasha Singh Gulati, Dr. Yogesh Sharma, and Durgesh Kumar Pathak
We would like to walk you through the seven steps we recommend for conducting a virtual public awareness event. This has really helped us to get our message out to the community on World Brain Day 2020 with a live event held at Janakpuri Super Speciality Hospital Society in New Delhi (JSSHS), India.
Step 1:  A Well-Thought-Out Theme With a Bird's Eye View
Prof. Man Mohan Mehndiratta, director, professor, and head of Neurology, JSSHS, decided to take the responsibility of sharing the efforts of the WFN on World Brain Day, following the theme of moving together to end Parkinson's disease.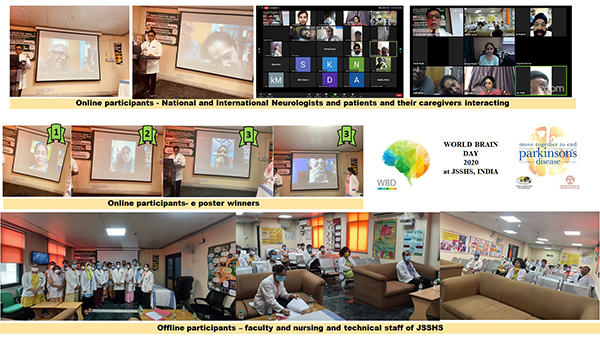 Despite the constraints of the COVID-19 Pandemic and social distancing, a virtual public awareness and education series was planned and held July 22, 2020, at JSSHS with the above theme.
Step 2: Choosing Speakers and Inviting Them
Eminent international and national neurologists were invited as speakers. Telephonic and email correspondence occurred, requesting them to spare their time for their valuable input as panelists for this event.
Step 3: Informing Patients and Their Caregivers
Parkinson's disease patients and caregivers who had visited the neurology outpatient department in the previous few months were registered with their contact details and were continuously informed regarding event plan updates.
Step 4: Engaging the Administration for Telecommunication Setup and Creating Video Links
High speed internet connectivity, audio visual setup, and virtual platform video links were tested, along with a pre-event dry run to ensure smooth functioning of the event.
Step 5: Creating An Event Schedule Page, Informing the Speakers and Audience, and Cross-Promoting
Step 6: Encouraging Interaction and Participation And Keeping the Event Interesting
All of the patients were given a chance to ask their queries. An e-poster competition was also held with e-certificates and cash prizes. The results were announced the very same day with the judges being the invited faculty speakers
Step 7: Finally, Evaluating the Event And Continuing to Engage In or Arrange Similar Events In Future Years
We hope these seven steps are helpful to others as they plan future events promoting awareness of neurological disorders. •
Prof. Man Mohan Mehndiratta, MD, DNB, DM, FAAN, FANA, FAMS, MNAMS, FRCP, FICP, FIAN, professor and director of the department of neurology at Janakpuri Superspecialty Hospital Society in Janakpuri, New Delhi
Dr. Amrita Tiwary Vyas, specialist of nuclear medicine at Janakpuri Superspecialty Hospital Society in Janakpuri, New Delhi
Dr. Natasha Singh Gulati, MD, specialist of cytology at Janakpuri Superspecialty Hospital Society in Janakpuri, New Delhi
Dr. Yogesh Sharma, MBBS, DNB, senior resident and associate research fellow in the department of neurology at Janakpuri Superspecialty Hospital Society in Janakpuri, New Delhi
Durgesh Kumar Pathak, BOT, MOT, neurodevelopmental disorders fellow and occupational therapist at Janakpuri Superspecialty Hospital Society in Janakpuri, New Delhi