By Ryuji Kaji, Chair Congress Committee, First Vice President of the WFN
The Congress Committee met on April 19, and the format of WCN2021 was finalized. Considering the global outlook of the COVID-19 pandemic and the decisions of other international meetings, we had to conclude that WCN2021 shall be held all online.
Despite being fully virtual, we will try our best for all of the participants to amply experience the atmosphere of Rome using state-of-the-art technology. The registration fee was revised and discounted to a large extent to facilitate attendance of many delegates, young neurologists, and medical students (see box at right), and the contents will be held available on the web for three months after the meeting for the registered participants.
The deadline of abstract submission was May 3, and we received over 2,000 abstracts. More bursaries than usual (200) will be provided to encourage young neurologists in the form of waiving registration fees. The early registration fees will apply until July 13, and we sincerely ask more neurologists than ever to make our virtual meeting one of the best WCNs in the new style of holding an academic meeting during the pandemic.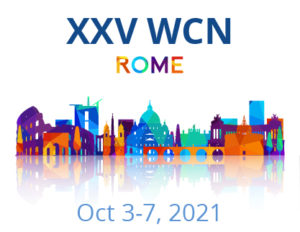 We are also soliciting nominations of the names for WFN medals for 2021 ( https://wfneurology.org/activities/education-grants-and-awards/wfn-awards ).
See you all virtually in Rome! •
Registration Fees
Euros
Full Participants Int'l – Early
300
Full Participants Int'l – Late
350
Full Participants – Italians Early
200
Full Participants – Italians Late
250
Low/Lower Middle Income Countries – Early*
150
Low/Lower Middle Income Countries – Late*
200
Allied Health Professionals – Early + Late **
100
Undergraduate Medical Students – Early + Late **
Waived
*Low/Lower Middle Income countries are defined according to the World Bank Country Classification. Participants from Low/Low Middle Income Countries must submit a copy of their passport

**Allied Health Professionals include Residents, Fellows, Nurses, Physical Therapist, Occupational Therapist, and Speech Therapist. Status must be certified by an official letter from the institution signed by the head of the department