By Drs. Chandrashekhar Meshram, JMK Murthy, Nirmal Surya and U. Meenakshisundaram.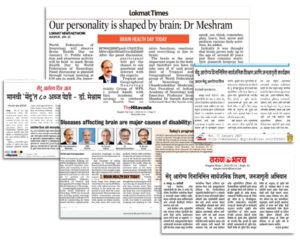 The Tropical and Geographical Neurology Specialty Group of the WFN joined hands with the Indian Academy of Neurology (IAN) to celebrate the Brain Health initiative on Jan. 11, 2021, to raise awareness for the importance of brain health.
A public education and awareness activity in the form of a panel discussion was planned through virtual meeting. The theme of the session was brain health and what happens if brains are not healthy. Dr. Chandrashekhar Meshram, chief coordinator of the program, released the press note.
Dr. JMK Murthy, president of Indian Academy of Neurology and clinical director and chair of the Department of Neurology, CARE Hospitals Hyderabad, inaugurated the event.
Dr. Meshram, in his introductory remarks, emphasized the relevance of this initiative by the World Federation of Neurology. Dr. Sarosh Katrak, past president of IAN, explained the importance of the brain, explained its functions and discussed why brain health is the priority.
IAN Secretary Dr. U. Meenakshisundaram spoke about various brain diseases and when people should consult a neurologist. Dr. Subhash Kaul, past president of IAN, mentioned various risk factors for brain diseases and how a change in lifestyle is important for prevention of neurological disorders.
Marathon runner and neurologist Dr. Anuradha explained how regular physical exercises improve brain health. Dr. Meshram highlighted the misconceptions about diet and stressed the need to shift to a low carbohydrate diet. He said that wrong diet is responsible for the pandemic of metabolic syndrome all over the world.
Dr. Gagandeep Singh, past secretary of IAN, informed about the current status of COVID vaccine. Dr. Sudhir Kothari said that developing hobbies is a good idea to maintain brain health and suggested that there is no age bar to learning new things. Dr. Sudhir Shah explained the positive effects of meditation and yoga on brain health. Dr. Sumit Singh stressed the effects of air pollution on brain health and discussed the sources of air pollution.  Dr. Sudhir Bhave explained the need for sleep hygiene and the role of positive thinking.
The emphasis was on maintaining brain health and prevention of brain diseases.
Dr. Nirmal Surya, IAN president-elect, was the moderator, and he interacted with the panelists. Participants enjoyed the session and the opportunity to interact with the experts during the question-and-answer session. •