By Ryuji Kaji MD, WFN First Vice President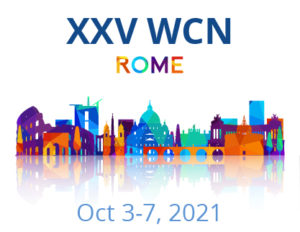 As the chair of the Congress Committee, I cordially invite you to join the 25th World Congress of Neurology (WCN) to be held Oct. 3-7, 2021, in Rome, Italy. Since the pandemic of COVID-19 will not completely fade out by then, we are most likely to have a hybrid-type congress, providing you the option of attending in person or virtually. The committee has decided that we will remain flexible until the end of March as to what extent the meeting can be held online.
The world is now suffering from COVID-19, which is comparable to Spanish flu or the influenza pandemic that occurred 100 years ago. At that time, peculiar neurological conditions were reported. These included encephalitis lethargica or von Economo's encephalitis, which is now hypothesized as a sequela of the pandemic. Similarly, there are various neurological manifestations of COVID-19, such as anosmia, stroke, so-called "brain fog" and others. Despite the difficulties of having WCN 2019 at this time, it is a unique opportunity to discuss various consequences of the pandemic not only scientifically but also in terms of its impact on neurological education and patients' care during the crisis to put our best pieces of knowledge together.
We will have the most updated sessions on COVID-19 and the nervous system, including a plenary session, so that we can share the strategies to fight against the virus. Also, we welcome abstract submissions on any advances in the other subspecialties of neurology. Our strengths include the worldwide links among membership societies and research groups, and we expect a number of breakthroughs in neurology to be presented at this meeting.
On behalf of our Italian colleagues, we welcome those who will be physically able to visit Rome and enjoy the most historic place in Europe: Inspired by the past to build the future of neurology. For those who are unable to come, you will also be able to present your paper online.
Please submit your abstracts now. The deadline is April 5, 2021. •