By Dr. Olivier Kapto and Dr. Ratsitohara Santatra Razafindrasata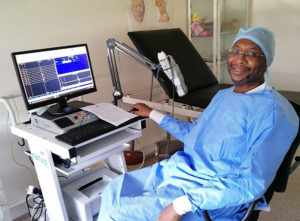 We are Dr. Olivier Kapto, Cameroonian, neurologist at Ouagadougou, Burkina Faso, and Dr. Ratsitohara Santatra Razafindrasata, Malagasy, neurologist at Antananarivo, Madagascar. We are both interested in clinical neurophysiology and are happy to have benefited from the World Federation of Neurology's (WFN's) one-year fellowship at the neurophysiology unit of Ibn Sina Teaching School in Rabat, Morocco. We worked under the supervision of Drs. Reda Ouazzani (head of unit) and El Alaoui Mustapha Faris from January 2020 to December 2021.
The neurophysiology unit has two electroneuromyography rooms under the supervision of Drs. Nazha Birouk, Leila Errguig and Bouchra Kably, one evoked potential room supervised by Dr. Bouchra Kably, one video-EEG room and one standard EEG room under the supervision of Drs. Reda Ouazzani, Leila Errguig and Fatiha Lahjouji.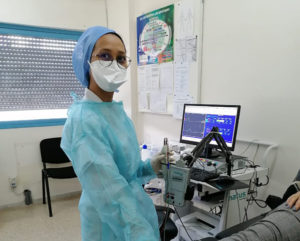 We were assigned since the beginning in these different units from 9 a.m. to 3 p.m. every Monday through Friday. Many learning activities are usual in the department: EEG staff with review of clinical cases, interpretation and literature review every Wednesday morning; general staff to discuss EEG-video cases for epilepsy surgery and electroneuromyography review of weekly cases about clinical, technical, and interpretation aspects every Thursday afternoon.
In the EEG unit, we learned the importance of patient history, electrode installation, and results interpretation. We assisted with visual and sensory evoked potentials. The EMG unit has been the most prolific. We started as observers in anatomical landmarks and technical realization. We gradually learned to do it ourselves, and at the end, we are able to perform and interpret an EMG exam. We have seen many cases: carpal tunnel syndrome, polyneuropathies, traumatic injuries, polyradiculoneuropathies, brachial plexus injuries, lumbar plexus injuries, myogenic syndrome, neuromuscular junction syndrome, amyotrophic lateral sclerosis, and facial palsies, among many others. The key point for us is the importance of clinical examination in the EMG test. We had the chance to attend neuromuscular and epilepsy consultations.
Our biggest difficulty was the lockdown, but we continued online learning with Dr. Birouk about the clinical and technical aspects of neuromuscular diseases. We took part in many scientific meetings online.
We are grateful to the WFN for this opportunity. We hope it will help us to continue in neurophysiological specialization. We thank the Moroccan authorities for administrative facilitations. We say a big thanks to Drs. Ouazzani, Birouk and their team. Our journey with them was so nice and instructive.
Many thanks, Dr. El Alaoui for your availability and care of us. Our biggest regret is not having the possibility to visit more of Morocco with the lockdown. We think we will come again.
It's a pleasure for us to wish happy New Year 2021 with further expansion of neurology. •