The meeting in Seoul, Korea, explored the use of neurosonology as an essential modality for neurologists.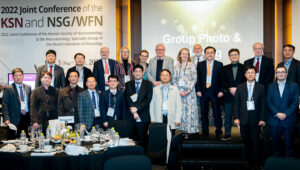 By Kurt Niederkorn, MD, Yong-Jae Kim, MD, PhD, Hee-Jung Song, MD, PhD, and Alex Razumovsky, PhD, FAHA, NVS
The Neurosonology Specialty Group (NSG) of the WFN is dedicated to the promotion of science and research as well as of education and training in the field of ultrasonic techniques and its clinical use. Therefore, international cooperation and the dissemination of scientific information within the field of neurosonology is part of NSG WFN activities.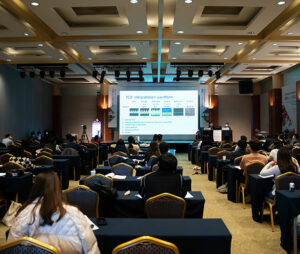 On Nov. 3-5, 2022, a joint conference of the Korean Society of Neurosonology (KSN) and NSG WFN considering clinical applications of carotid duplex, transcranial Doppler and transcranial color-coded duplex utilization in the wide arrays of different aspects of neurology, neurocritical care, and neurosurgery was conducted in Seoul, Korea. Invited speakers included prominent experts from Austria, Egypt, Germany, Japan, Korea, Portugal, Singapore, Switzerland, and the United States. Numerous speakers from Korean medical schools and universities were involved and presented high-quality clinical and research lectures.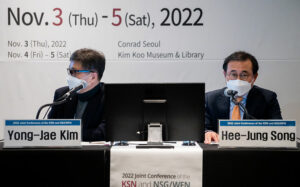 A program full of lectures including teaching courses, hands-on sessions, poster sessions, international certification examination, and special interest events covering diverse topics, with networking and social activities, was presented. A special session was dedicated to sonography education where experts from Germany, Korea, and the United States exchanged opinions and presented country-specific approaches to neurosonology and ultrasound education in medical schools. However, the wide application of ultrasound, including neurosonology across many medical specialties, increased portability and decreased cost of ultrasound devices, and enhancement of learning both basic and clinical sciences with ultrasonography will continue to demand appropriate teaching and training on ultrasound in undergraduate medical education.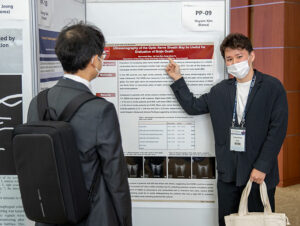 A special issue of the Korean Journal of Neurosonology and Neuroimaging (JNN) published all lectures and presentations (JNN, volume 14, supplement 2, November 2022).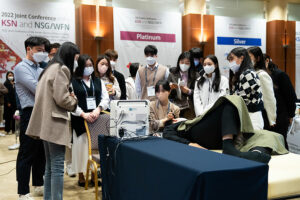 Neurosonology has been developed based on ultrasound diagnosis in cerebrovascular diseases, like ischemic stroke and extracranial and intracranial stenosis, but is currently being applied and used clinically in various fields ranging from diagnosis and monitoring of cerebral vasospasm after subarachnoid hemorrhage and traumatic brain injury, and cerebral degenerative diseases, and to diagnose and follow up on peripheral nerve and muscle diseases.
This Joint KSN and NSG WFN conference will definitely create a better cooperation of neuroscience researchers around the world who are conducting clinical and translational research beyond ultrasound diagnosis. •
Kurt Niederkorn, MD, is professor of neurology and chair of the NSG of the WFN. Yong-Jae Kim, MD, PhD, is professor of neurology and chair of the Korean Society of Neurosonology. Hee-Jung Song, MD, PhD, is president of the Korean Society of Neurosonology. Alex Razumovsky, PhD, FAHA, NVS is secretary of NSG of the WFN.