The WFN, global regions, and the World Federation of Neurorehabilitation
By Tissa Wijeratne, David W. Dodick, Steven L. Lewis, and Wolfgang Grisold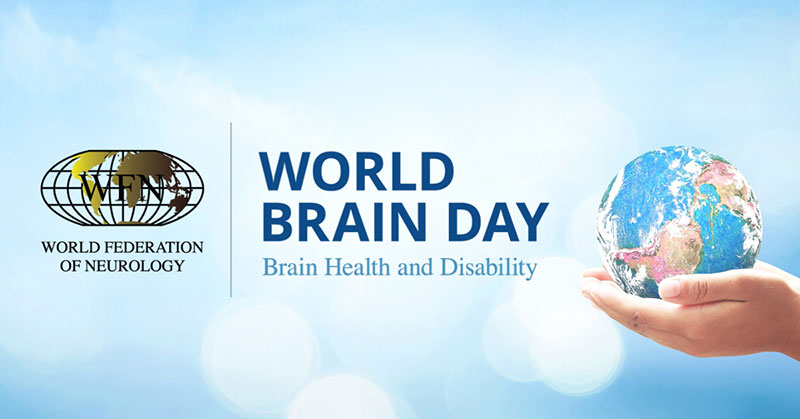 World Brain Day 2023 annually commemorates the foundation of the World Federation of Neurology (WFN) on July 22. The previous World Brain Day themes focused on specific neurological diseases such as Parkinson's disease, migraine, epilepsy, multiple sclerosis, and many others. We are again partnering with all six regions of the WFN as well as the World Federation for NeuroRehabilitation (WFNR) to unite the world on the disability that results when brain health compromised.
Brain disorders, affecting more than one billion people, are the leading cause of disability-adjusted life years (DALYs). Optimizing brain health, care, and rehabilitation for those with disability from neurological disease is a global priority, requires involvement of policy makers, health care providers, foundations, public health authorities, professional societies, patient advocacy organizations, and the private sector.
The World Health Organization (WHO) identified the following determinants for brain health:
Physical health
Healthy environments
Safety and security
Learning and social connections
Access to quality services
By addressing these determinants, we can optimize brain health, prevent neurological disease, facilitate early and rapid diagnosis, ensure universal access to care, and thus lower the prevalence and disability associated with most neurological diseases.  For those with progressive, late-stage, and incurable disease, access to palliative care to ensure human dignity at the end of life is an imperative.
The Intersectoral Global Action Plan on Epilepsy and Other Neurological Disorders 2022–2031 (IGAP) was initiated by WHO and unanimously adopted at the World Health Assembly on May 27, 2022. [https://apps.who.int/gb/ebwha/pdf_files/WHA75/A75_10Add4-en.pdf].
The IGAP provides a comprehensive response to the burden of neurological disorders; the global action plan suggests actions to Member States and national and international partners to close the treatment gap for people with neurological disorders and support quality management of these conditions.
Since the IGAP is also directed to organizations such as the WFN, this is an excellent opportunity to strengthen the collaboration between the WFN and WHO by linking our actions with the principles of the IGAP.
In this year's World Brain Day | Brain Health and Disability: Leave No One Behind, we intend to highlight five key messages.
Prevention: Brain disabilities can be prevented, treated, and rehabilitated.
Awareness: Global brain health awareness can reduce the burden of brain disorders.
Access: Universal access to care, treatment, rehabilitation, and assistive technology is essential.
Education: Education increases equity for those living with brain disabilities.
Advocacy: Brain health is a human right that applies to everyone, everywhere.
As in the previous World Brain Days, a special logo and material have been produced and will be made widely available for local/regional use by health care professionals, regional and national societies, and all other stakeholders involved in neurological disease advocacy. Before World Brain Day, a template for press mailings will be distributed to help the local organizations. On World Brain Day, a webinar will be launched and, with invited participants from the press, key messaging on brain health and disability will be disseminated.
The ultimate success of World Brain Day depends on your local activities. Please make World Brain Day your own, use all the material we provide, and ask for more if needed. Experience has shown that this international day has created considerable press attention, but local activities and information make the difference.
Please involve patients, caregivers, the public, local, regional, and national policy makers, and patient groups that might be interested in this topic. Please be sure to post your activities on social media to help raise awareness. Join us on World Brain Day as we ensure no one is left behind.
Brain health care faces many global inequalities. Let's change this together. Let's leave no one behind.
We eagerly await your reports of your local plans on World Brain Day events so that we can publish them in World Neurology.
Learn more at www.wfneurology.org. •