By Salaheddine Mourabit
Thanks to the support of the World Federation of Neurology (WFN) Education Committee and the German Society of Neurology, I was able to benefit from this program of visit during which I spent a month at the neurology department of Johannes Gutenberg University of Mainz. During this period, I was able to get an idea about the function of a neurology service in Germany, to see new techniques, and to participate in different activities of the service (patient visits, admissions staff roles, and multidisciplinary staff roles).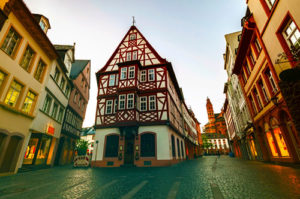 With Dr. Dresel, I attended specialized consultations for abnormal movement, Parkinson's disease, and multiple sclerosis (MS, which is still a rare and under-diagnosed pathology in Senegal). I also participated in a workshop on the use of botulinum toxin in the treatment of spasticity under the supervision of Prof. Gruppa and Dr. Dresel.
My visit to the neurophysiology department was informative, and I had the opportunity to work on devices of the last generation and to note a relative difference between the German and the French methodology that's practiced here in Senegal.
The week I spent at the stroke unit was fruitful, because I was able to attend thrombolysis, the basis of stroke management in acute phase, which is common in Germany and not done in Senegal because of lack of funding. Thanks to Prof. Gruppa, I was fortunate to see for the first time in my life the practiced operation to implant a neurostimulator for deep brain stimulation, to understand the procedure, and also to see the device used for the calibration and regulation of stimulations.
In summary, I will say that my visit at the neurology department of Johannes Gutenberg University was rewarding, and I am satisfied with this experience that allowed me to see new techniques that I could put into practice here in Dakar.
Dear committee, I am thankful to you for giving me this great opportunity, and I would like to thank the German Society of Neurology, the entire team of the neurology department of Johannes Gutenberg University, and especially Dr. Dresel, whose help and guidance were invaluable to me. •