New Strategies for Preventing and Treating Brain Diseases
By Wolfgang Grisold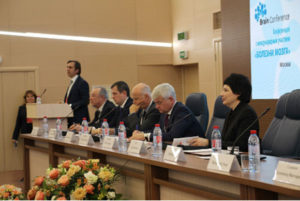 The conference on "Advances in Neuroscience and New Strategies for Preventing and Treating Brain Diseases" took place Nov. 12-13, 2018, in the Buyanov City Clinical Hospital, one of the largest multidisciplinary hospitals in Moscow. It was organized and chaired by Prof. Eugene Gusev and Prof. Alla Guekht in cooperation with the Russian Ministry of Health, the Moscow Healthcare Department, and the World Health Organization European Office for the Prevention and Control of Noncommunicable Diseases, among other institutions.
In addition to the local and international board, the chair of the WHO European Office in Moscow, João Breda, attended the opening. Extensive press coverage and TV presence demonstrated the interest in brain diseases.
The conference was attended by an international faculty, speakers from Russia, and more than 400 doctors from Moscow and 16 cities of the Russian Federation, as well as from Kazakhstan, and Tajikistan. It provided an update on current issues in neurology with the main topics being brain diseases from bench to bedside, cerebrovascular disease, neuropsychiatry, and epilepsy. Also, translational studies and multidisciplinary strategies in brain diseases, autoimmune disorders, and diseases of the peripheral nervous system were highlighted. An innovative feature was the interactive case conferences in neuro-oncology and epilepsy. Based on case presentations, a multidisciplinary session was held demonstrating the importance of interdisciplinary work.
The lectures were a good synthesis of international and local speakers and served the purpose of an update of current neurological concepts, ranging from epidemiology toward new concepts of therapy. In addition to the program, the congress speakers were also able to visit the neurological and neurosurgical departments of the hospital, which demonstrated the high standard of the clinical practice in Moscow. The local faculty also produced a book of the lectures, which contains Russian and international contributions, based on the conference topics; this book is registered with an ISBN number.
Following the congress, the speakers were invited to a meeting of the international advisory board in the Research and Clinical Center for Neuropsychiatry of the Moscow Healthcare Department. The center is a modern clinical facility specializing in research and treatment of mental disorders and neurological diseases, including depression, anxiety disorders, suicidal ideation, epilepsy, neuropathic pain, post-stroke rehabilitation, and cognitive decline. On site, the faculty was able to visit the neuroimaging and neurophysiology laboratories and other research units, appreciating the up-to-date equipment and highly professional staff. It was also a good introduction to the interactive research seminar.
The research groups of the hospital presented their valuable studies, covering a broad range from bench to bedside to several practically applied projects. In addition to cerebrovascular disease and epilepsy, several projects touched on neuropsychiatric issues, which underlines the important issue of brain diseases as a multiprotocol and multidisciplinary task.
Following the presentations, faculty members were asked to continue with small working groups on several topics and projects being carried out. This was a rich source of interaction, and not only advice and input, but also cooperation and joint projects were initiated.
In summary, this interesting and internationally well-attended meeting could fill the gap from high level interaction of neurology with official and global institutions toward interaction and practical work toward joint projects with international cooperation. As such, it is an important template for advocacy in neurology. •