By Dr. Abiodun Hamzat Bello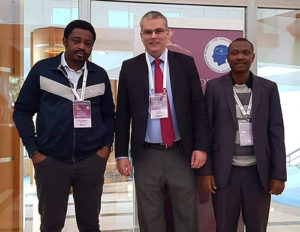 I would like to start by thanking the World Federation of Neurology (WFN) and the Turkish Neurological Society (TNS) for selecting me to visit the neurology department at Ege University in Turkey. It is a highly specialized department where advanced neurology care is given to patients.
My experience started with the kind support received from Jade Levy of WFN and Burak Tokdemir of TNS. They were both wonderful in helping me navigate through the initial documentations and travel plans.
On arrival at the neurology department, I was warmly welcomed by my amiable supervisor, Dr. Nese Celebisoy, who introduced me to other members of staff and took me around the department. On a daily basis, I had the opportunity of going to the outpatient clinics and the neurophysiology and neurosensory labs. I was primarily with her in the neuro-ophthalmology and neuro-otology outpatient clinics and the neuro-ICU. I had eye-opening experiences in the management of patients with optic neuropathy, ocular myasthenia gravis, and patients with vertigo, just to mention a few. We had daily morning rounds in the 12-bed neuro-ICU, where I had the opportunity to see ischemic stroke patients who had thrombolysis and thrombectomy, which are currently unavailable in my home. However, I saw patients being fed by pre-packaged, nutritionally-balanced liquid feeds via nasogastric tubes, and I find this to be locally adaptable.
In addition, I rotated through the neurophysiology lab, where I observed electroencephalography, electromyography, and nerve conduction studies. I was able to acquire new experiences that I can put to practice locally in my center.
I also participated in the movement disorder clinic, where I experienced firsthand patients on levodopa infusion gel and deep brain stimulation for Parkinson's disease. Dr. Ahmet Acarer was very helpful in explaining the procedures and also demonstrated botulinum injection techniques to me.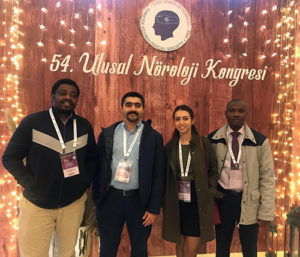 A major part of the program was the 54th National Neurology Congress of TNS, which took place Nov. 30 to Dec. 6, 2018, in Antalya. During that period, I met with and listened to top erudite scholars from TNS as they delivered their research work and lectures. I was particularly fascinated by the highly advanced neurology practice and research in Turkey.
I have to say that the department visit was very helpful to me as I was able to learn and experience neurology subspecialty practice at the highest level, and I found some of the areas practicable for me here in my center in Nigeria. Since my return, I have started putting measures in place to improve patient care in the area of neuro-ophthalmology and movement disorders.
Before I conclude, I once again thank WFN and TNS for the golden opportunity, and I look forward to others in the future. Let me also appreciate Jade Levy, Burak Tokdermir, Prof. Dr. Nese Celebisoy, Dr. Ahmet Acarer, Dr. Ayse Guler, Prof. Dr. Figen Gokcay, Dr. Kamran Samadli, and all other members of the neurology department who are too numerous to mention.