By David Burke
This In Memoriam is reprinted COURTESY of The Australia & New Zealand Association of Neurologists Newsletter.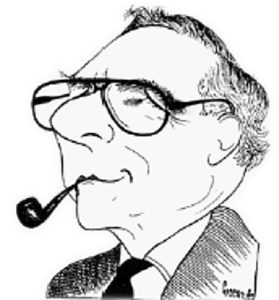 Australia and the world have lost a true giant of neurology with the passing of James Waldo Lance, CBE, AO, MD, FRCP, FRACP, FAA.
Following is the eulogy that was delivered at Jim's funeral service by Prof. David Burke, past presidentof ANZAN.
We are here today to pay our respects to the doyen of Australian neurology. Jim Lance was the complete physician, a man who covered all fields and was an exemplar clinician-scientist. He was the academic father and intellectual inspiration for many of us. We will not see his like again.
He was the first person appointed as a neurologist in Australia.
He set up the first academic department of neurology in Australia and founded the Institute of Neurological Sciences of the Prince Henry and Prince of Wales Hospitals.
He was the first professor of neurology in Australia.
He was the first practicing clinician elected as a Fellow of the Australian Academy of Science.
He was president of the Australian Association of Neurologists, and one of the founding fathers and a lifelong supporter of the Brain Foundation.
He was the foundation president of the Australian Headache Society and president of the International Headache Society.
His service to the community has been recognized by the Governor General.
He was appointed commander of the order of the British Empire in 1977.
He was appointed officer in the order of Australia in 1991.
He was awarded the Centenary Medal of Federation in 2001.
He was recognized nationally and internationally.
He won the Lilly Foreign Education Fellowship at Massachusetts General Hospital in Boston in 1960.
The British Migraine Association awarded him the Gold Medal in 1975.
The American Association for the Study of Headache recognized him four times: the Harold G. Wolff Memorial Award in 1967 and again in 1983, the Arnold Friedman Distinguished Clinician/Researcher Award in 1989, and the John Graham Senior Clinician Award in 1991.
Under the presidency of Geoff Donnan, the Australian Association of Neurologists created an annual award: The James Lance Young Investigator Award, in recognition of his lifelong role in training the next generation.
When Michael Halmagyi was president, the Brain Foundation created the James Lance Award for research into migraine and other headaches. These achievements and this recognition do not tell you much about Jim Lance as we knew him. He has contributed so much to our lives that it is difficult to know where to begin.
James Waldo Lance was born in Wollongong in 1926 and graduated in medicine in 1950 from the University of Sydney. Influenced by Nobel Laureate Howard Florey, he cut short a residency at Royal Prince Alfred Hospital to undertake full-time research for the degree MD with Peter Bishop at the newly established Brain Research Institute at the University of Sydney. A fellow student was Jim McLeod, undertaking research for the BSc (medicine), and the two became lifelong friends, spending time in the U.K. and later in Boston at much the same time. The two Jims became known as the "Gentleman Jims," a legendary twosome in Australian neurology, running complementary departments at our two premier institutionssetting a high bar for others to emulate elsewhere in the country.
He spent a couple of years in London, first at the Royal Postgraduate Medical School at Hammersmith Hospital, and then at Queen Square, where he was influenced by eminent clinicians and great teachers. After he returned to Australia, an opportunity to develop a neurological career arose when the University of New South Wales set up a new medical school at The Prince Henry Hospital under Ralph Blacket, the foundation professor of medicine. After a year in Boston honing his academic skills, Jim took up the appointment as chair of the department of neurology, an appointment that he held for 30 years.
During that time, he worked tirelessly to develop the specialty, at Prince Henry and throughout the country. And now, we can see the fruits of his labor: Neurology is arguably the most exciting field in which to work as a physician.
Our unit was blessed by its leadership, with Jim running neurology, Alec Gonski running neurosurgery, and Jo Loder running Ward 4. Prince Henry became a beacon in neuroscience in Australia, culminating in the formation of the Institute of Neurological Science, with Jim as the first director, and then the Prince of Wales Medical Research Institute. Now renamed NeuRA, this was the first medical research institute devoted exclusively to neuroscience in Australia.
He formally retired from the hospital service at the obligatory age of 65, but he continued a neurological practice until his late 80s. He maintained a weekly presence at our Grand Rounds, where he shared clinical insights and taught our trainees the art of neurology.
Throughout his life, Jim championed the scientific basis of medicine, always inquiring, always interested in evidence, but always humble and ready to change his mind when the evidence dictated that. He was a man of enthusiasms and unquenchable work ethic, that stimulated his colleagues and staff to work harder to emulate the standards he had set. If one questioned a task, Jim's response was typical of the man: That's OK: I'll do it myself.
He believed in people whether colleagues or patients, and his support was unwavering. He actively nurtured the careers of junior colleagues, and took pride in their achievements. He treated his patients as people—intelligent and capable of understanding if the right language was used. He was unfailingly honest in his appraisals, but did not have a bad word for people: If a reference consisted of two paragraphs the thumb was down; if it consisted of two pages, the thumb was up. And his influence extended beyond those who worked directly with him, and beyond Australia.
A quote from a senior colleague from Melbourne typifies responses received from all over the country, and from overseas:
"Jim was an inspiration to me while training in the early 1980s. He always had encouraging and kind words for me as a trainee and junior neurologist, and I feel a great debt both to his leadership in our profession and in shaping my own development as a clinician-scientist."
He loved nothing more than teaching, and his Grand Rounds and lectures on Mondays in Ward 4 at The Prince Henry Hospital attracted young aspiring clinicians from all over the city. His clinical consultations were incisive, instructive, and an opportunity to teach. The referring physician inevitably learned not only what to do, but why to do it.
We have benefitted from his leadership, his wisdom, his generosity, and his support. Jim may have gone, but his legacy will continue to grow not just through his direct family, but through those clinicians and scientists who count themselves as part of his extended family.
We thank Jim for a life well spent. More particularly we thank Judy, Fiona, Sarah, Jenny, Robert, and Sophie and their families for allowing us to share his life. •