By Dr. Cyril Oshomah Erameh
Thank you to the WFN and the Turkish Neurological Society for this privileged academic opportunity to visit one of the most established neurological centers in Turkey.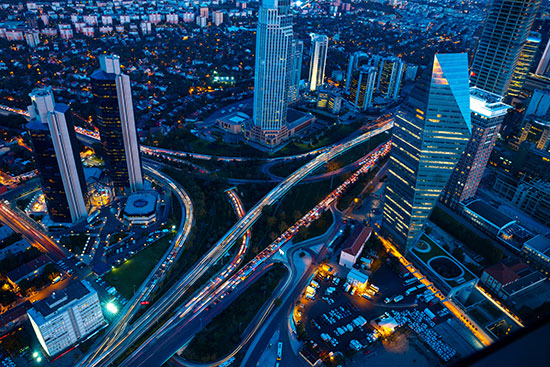 This wonderful experience commenced with the receipt of my acceptance for this program from Jade Levy of the WFN. She explained my travel details and made introductions to Burak Tokdermir, the Turkish Neurological Society contact. Tokdermir was helpful in planning my trip and linking me up with the professor at Cerrahpasa.
On my arrival at the neurology department in Cerrahpasa, I was warmly welcomed by Dr. Melih Tutuncu. Dr. Melih took me on a tour and introduced me to the department chair, Prof. Sabahattin Saip and Prof. Aksel Siva, renowned for MS management. My weekly schedule was drafted in accordance to my particular interest areas in neurology. These areas were epilepsy, movement disorders, neuromuscular, and neuroinflammatory diseases. This schedule was further finetuned by Prof. Derya Uluduz, my contact professor.
The weekly schedule I followed during the visit was:
Monday
Morning: Epilepsy unit with EEG reporting, outpatient clinics, and inpatient case management.
Afternoon: EMG lab.
Tuesday
Morning: Epilepsy unit with EEG reporting, outpatient clinics, and inpatient case management.
Afternoon: Movement disorders clinic.
Wednesday: MS clinic.
Thursday
Morning: Movement disorders.
Afternoon: EMG lab.
Fridays: Free time to view the sights and sounds of Istanbul.
During this period, I learned more about epilepsy, movement disorders, and MS. My EEG reporting skills have also improved following this visit.
The highpoint of the visit was the 54th National Neurology Congress of the Turkish Neurological Society, which took place Nov. 30-Dec. 6, 2018, in Antalya. I enjoyed this academic week. It was powerfully packed with lectures delivered by erudite neurology scholars. I learned a great deal about current trends in neurology. Rixos Hotel, the conference site, was beautiful and serene with a wonderful seaside view.
I also networked, met young neurologists from all over Turkey, and made new friends. It was indeed a wonderful experience for me.
This department was apt for me. As a young neurologist with a wide future and from a developing country in Africa [Nigeria], this visit highlighted how care of neurological case are in developed countries, giving me insight into how to make improvements in my home country. My plan following this visit is to improve neurodiagnosis in my center and also seek additional training.
Finally, I would like to again thank the WFN and Turkish Neurological Society for this visit, with special thanks to Jade Levy, Burak Tokdermir, Prof. Derya Uluduz, Dr. Melih Tutuncu, Prof. Aksel Silva, Dr. Aysegul Gunduz, Prof. Gunes Kiziltan, Dr. Uygur, Dr. Bade Gulec, Prof. Sabahattin Saip, and the entire Noroloji Department of Istanbul University Cerraphasa Tip Fakultesi. •