NASA, AFAN Joint Congress
By Wolfgang Grisold
During this year's Neurological Association of South Africa (NASA) meeting, the AFAN had its annual business meeting and scientific meeting in East London, South Africa. Outgoing President Yomi Ogun opened the business meeting by giving a report on AFAN's development and activities in the past year.
This report was followed by an update from Augustina Charway-Felli, AFAN secretary general. Lawrence Tucker, AFAN treasurer, reported that support of the American Academy of Neurology (AAN), European Academy of Neurology (EAN), the World Federation of Neurology (WFN), and the Movement Disorders Society (MDS) were received and allowed the meeting and the stability of AFAN. Yet, the financial resources still need attention. The AFAN goals to attain a financially independent status are moving closer.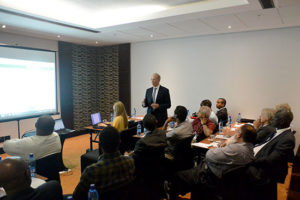 WFN was mentioned in several reports, and it is acknowledged that the WFN had been helpful in the establishment of AFAN, and continues its efforts for Africa. WFN President William Carroll commented on the development of AFAN and neurology in Africa. He emphasized that AFAN will have to secure and stabilize its financial situation and independence.
In this meeting, new elections also took place, which were supervised by Raad Shakir, past WFN president. The new AFAN board (left) shows that the concept of regional representation is well established in the AFAN.
The current AFAN board (September 2019-2021) is:
President
Foad Abd-Allah (Egypt)
President-Elect
Augustina Charway-Felli (Ghana)
Secretary General
Daniel Gams Massi (Cameroon)
Treasurer
Ozayr Ameen (South Africa)
Vice Presidents
North Africa: Faouzi Belahsen (Morocco)
East Africa: Marieke Dekker (Tanzania)
South Africa: Lawrence Tucker (South Africa)
Central Africa: Yacouba Mapuore (Cameroon)
West Africa: Ange-Eric Kouame-Assouan (Cote d'Ivoire)
The main message from this business meeting was that AFAN is committed to the goals of increasing the visibility of neurology and ensuring improved access to neurological care for the population of the continent. This can only be achieved by training and advocacy.
The scientific meetings consisted of workshops on several topics. The meeting had sessions from both NASA and AFAN, and the sessions were well attended. The topics of the AFAN sessions concerned several disease entities, and most speakers were able to highlight the specific situation for neurology in Africa. Structural and educational topics and the future of African neurology were discussed.
This important joint meeting emphasized that the needs for Africa have many dimensions. One key figure is the Africa's population, which is now 1.3 billion, and composed of different languages, cultures, and many distinctive ethnicities. Africa needs empowerment in education and training from within. •