By Chandrashekhar Meshram, Nirmal Surya and U. Meenakshisundaram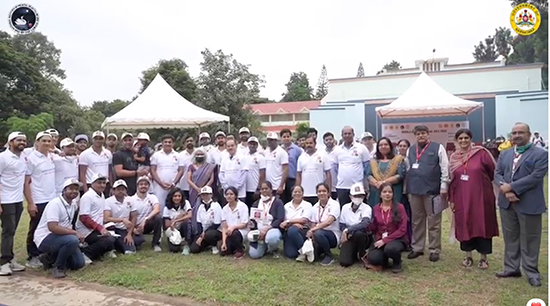 World Brain Day 2022 was celebrated with great fanfare and enthusiasm in India, and the campaign was extended over a week. This year's theme "Brain Health for All" was appropriate, and it generated a lot of interest. Although the Dynamic President of the Indian Academy of Neurology (IAN) Nirmal Surya had given an ambitious target of 100 activities during the week, we ended up doing many more events across the country. The activities were focused on increasing awareness of common people and students about brain health and neurological diseases.
Dr. Chandrashekhar Meshram, chief coordinator of public education activities of IAN, had issued the press release. Participation of WFN President Prof. Wolfgang Grisold in four national webinars brought a lot of cheers for the organizers.
The spectrum of activities included webinars, drawings, paintings and poster competitions, sports events, a walkathon, Run for Brain, school and college talks, public talks, interviews on radio, television, and newspapers, and social media interactions.
The weeklong celebration ended with a concluding function attended by Prof. Grisold. Doing so many activities was an extremely satisfying experience, and this event will certainly contribute toward promotion of brain health and early diagnosis, treatment, and prevention of neurological disorders and in turn improving patient care.
Subsection Webinars—6 Activities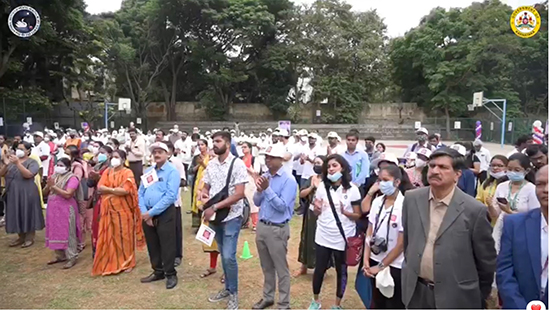 Man Monahan Mehndiratta, chair, and Abhishek Shrivastava, convener of Neurorehabilitation subsection of IAN, conducted four webinars: Brain Health, Neuroplasticity—Rewiring the Brain, Cognition and Brain Health, and Update on Neuromodulation.
The webinar by Epilepsy Foundation was organized by Nirmal Surya.
The webinar was organized by Tamil Nādu and Puducherry Association of Neurologists under guidance of Sunil Narayan and K. Ramadoss.
Activities at Different Centers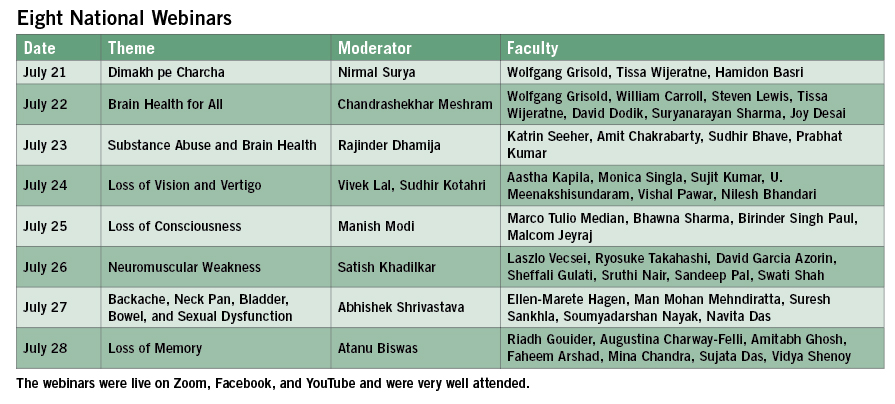 Nagpur—14 Activities Plus 43 Publications
All India Radia talks and interviews of Chandrashekhar Meshram on Brain Health for All, Dhruv Batra on Parkinson's Disease, Satish Lahoti on Stroke, Vasant Dangra on Epilepsy, Abhishek Wankar on Dementia, Vaibhav Nasre on Head Injury, and Shyam Babhulkar on Headache were relayed daily during the week.
Talks in four Schools: Hadas High School, Somalwar High School, Sainath High School, and Gayatri Convent in Nagpur by Vasant Dangra, Dhruv Batra, Anand Somkuwar.
Two interviews of Chandrashekhar Meshram on Awaaz India TV and Doordarshan TV
Walk for Your Brain Walkathon was organized in Nagpur on July 24 and various placards carrying important messages were displayed.
Newspaper Publications—43 publications during the week highlighted the event, as these contributed immensely toward public health awareness and education.

Chennai—10 Activities
World Brain Week started with a cake-cutting ceremony. Daily lectures: U. Meenakshisundaram on Brain Health, Ritesh Nair on Stroke, U. Meenashisundaram on Parkinsonson's Disease, Head Injury, Ravikumar on Headache, Epilepsy, and Brain Tumors. Poster and quiz competition received overwhelming response. The posters were exhibited, and the best entries were given awards. U. Meenakshisundaram gave a talk on Red FM on Brain Health.

Bangalore—14 Activities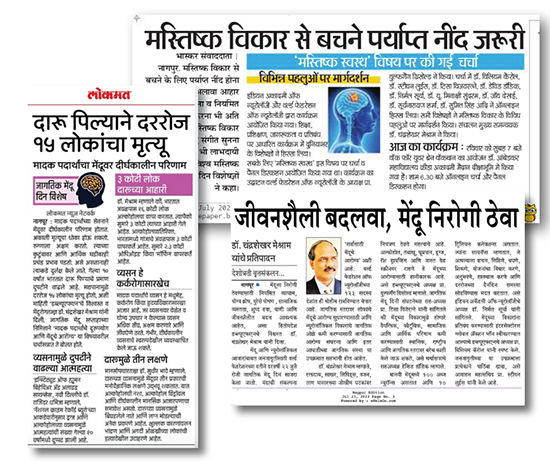 Suvarna Alladi and NIMHANs team organized a cricket match with cricketer Robin Uthappa who is brand ambassador of Karnataka's brain health initiative. Policymakers, patients, care givers, institutional heads, and neurologists participated in the event. Karnataka Health Minister K. Sudhakar inaugurated the first of its kind brain health clinic in the Bangalore Hospital. It was supported by six newspaper publications. Amit Kulkarni delivered a public talk at Global Institute of Technology. Suryanarayan Sharma gave lectures in two colleges, and also at Toyota Industries. He organized the painting competition for school children. His interview was published in the newspaper and he did two digital platform activities. B. K. Madhusudan gave a talk at the university and had one Facebook live event on brain health.

Nellore—8 Activities
Bindu Menon organized eight activities in Nellore during the week.
Day 1: Awareness to Shar Employees on stroke prevention. Awareness to Lions Club of Nellore. Time Is Brain: Adani Group. Webinar on neurological health, hero group of employees. Topic on stroke, SembCorp Group employees. Topic on responding to stroke and preventing stroke, SBI Main branch. Interactive session on improving children's brain health, NeuroVoice podcast welcomed Mrs. Padma Subrahmanyam, founder and Director Rainbow School, Nellore who spoke about the challenges children face, the way forward, and how to improve brain health. Eight stalls were arranged for patients, caregivers, and accompanying persons at Apollo Hospital premises. Each stall focused on the prevention campaign run on one risk factor.

Delhi—9 Activities
Public health lecture on brain health issues in school children was organized by Sheffali Gulati and her team at AIIMS, New Delhi. Web-based application for dyslexia children was launched on occasion of WBD.
Program of Sheffali Gulati, Debashish Choudhary on DD Kissan. Public lecture series was organized at G B Pant Hospital. Debashish Chaudhury gave a talk on brain health, Rohit Bhatia on stroke, Ashish Duggal on headache and Swapan Gupta on epilepsy. This was followed by a panel discussion. The event was also showcased on Doordarshan. Rajinder Dhamija gave a talk at Institute of Human Behavior and Allied Sciences. Two talks were given by P. N. Ranjan.

Gurgaon—7 Activities
Manish Mahajan and Sumit Singh organized the press conference and explained the concept of brain health. Talks in Amity International School and Shiv Nagar School Gurgaon by Sumit Singh and Manish Mahajan of Artemis Institute. Students of AIS performed the nukkad to convey the message of brain health. Manish Mahajan gave a talk on Facebook Live. Health talk at Make My Trip head office was given. Article was published in Punjab Keasari newspaper.

Chandigarh—5 Activities
Director PGIMER Chandigarh Dr. Vivek Lal conducted innovative sessions during the week. Programs like Train the Brain poster-making competition in Chandigarh Schools, Games for brain slogan writing competition, No Stain on Brain distribution of educative material and public awareness talks, Food for thought avoidance of addiction, Don't drain your brain – importance of sleep were organized.

Mumbai—9 Activities
Talks were given at Jaslok Hospital Mumbai
Fali Poncha on Stroke, Joy Desai on Dementia, Pettarusp Wadia on Parkinson's Disease, Joy Desai on Sleep, Ravishankar on Migraine, Anaita Udwadia on Epilepsy, and Azad Irani on Rehabilitation. Interviews of Nirmal Surya were published in two newspapers.

Ludhiana—2 Activities
Gagandeep Singh arranged two talks on epilepsy for the general public.

Trichy—4 Activities
Brain health awareness and a talent detection program for special children was organized at Trichy Central Library. M. A. Aleem gave a talk in school. Aleem published interview in newspaper. Talk on brain health on YouTube by M. A. Aleem.

Amaravati—2 Activities
Sikander Advani arranged a painting competition on World Brain Day. There were 157 entries. Exhibition of paintings was held, and prizes were given to best creative works.

Nanded—3 Activities
Pramod Dhonde held a painting competition on brain health for school children. He also organized a Brain Quiz and gave a talk on stroke, migraine, and brain.

Cuttack—3 Activities
Siumyadarshan Nayak organized an essay writing competition in School in Barhampur and held a drawing competition for school children. He also did an awareness program for school children.

Hyderabad—2 Activities
Interviews of Subhash Kaul and Suresh Kumar were published in newspapers.

Lucknow—2 Activities
Two interviews of Rajesh Verma were published in Live Hindustan and Jagran.

Pune—1 Activity
Talk by Shripad Pujari on lifestyle modification.

Amritsar—1 Activity
Jaslovleen Kaur has written a poem on dementia.

Patna—1 Activity
Ujjawal Roy composed a song on brain health.

Jaipur—1 Activity
Talk by Bhawna Sharma on brain health.

Ahmedabad—4 Activities
Interviews of Sudhir Shah and Heli Shah were published in four newspapers and periodicals.
More activities were done at other centers but their reports were not available at press time.

FM Radio
Twenty two neurologists gave messages on brain health on FM radio.
There were 45 interviews of neurologists on Red FM Radio.

Social Media
114 tweets, 360 posts on social media. 1,410 viewers on Instagram, 6,458 on Facebook and 11.5 K on Twitter.

Run for Brain
Twenty eight neurologists in runners groups from different regions participated in this event and completed 2.4 million steps during the week. •
Chandrashekhar Meshram is co-opted trustee of the WFN. Nirmal Surya is president of the Indian Academy of Neurology. U. Meenakshisundaram is head of the department of neurology at SIMS hospital in Chennai, India.