By Melody Asukile
The European Academy of Neurology (EAN) is the home of neurology in Europe and was formed in 2014 by the union of the EFNS (European Federation of Neurological Societies) and ENS (European Neurological Society). Their goal is to promote neurological excellence in Europe and the world.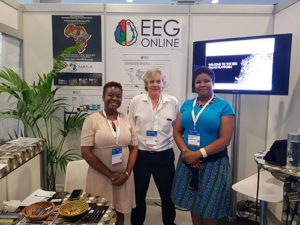 I had the privilege of attending the Fourth EAN Congress held June 16-19 in the history-rich city of Lisbon, Portugal under the theme of Neurogenetics. The program was filled with a wide range of interesting topics, including but not limited to movement disorders, dementia, stroke, neuromuscular disorders, epilepsy, and multiple sclerosis with presentations from leaders in their respective fields.
The congress also had a lot of activities that catered for neurologists in training such as case-based workshops, focused topic workshops, hands-on courses, teaching courses, and several interactive sessions. I particularly enjoyed the interactive sessions as we had the opportunity to network with neurology experts and residents from all over the world. Examples of the interactive sessions were the EAN BrainChallenge, a case-based interactive quiz show, and real patient assessment and management by experts. These sessions were not only enjoyable but also informative regarding the clinical approach to neurology patients.
There were ePoster and ePresentation sessions on three days of the congress. My abstract was accepted as an ePoster presentation in the Epilepsy 3 session. My topic was "The Efficacy of an Online Learning Tool in Improving EEG Analysis and Interpretation Skills of Neurology Registrars, Neurologists and Technologists." I had three minutes to present and discuss my findings that showed that the course had proved to be an effective EEG teaching resource. Some important points raised were the usefulness of the online course in resource-poor settings where EEG teachers were lacking, but also extending to better resourced areas; and the affordable cost of the 6-month program.
Overall, the congress was informative and showcased some of the ground-breaking research in-progress in Europe regarding the use of neurogenetics for the diagnosis and treatment of both "old and new" neurological conditions.
I am grateful to the WFN for affording me the opportunity to attend this meeting through the Junior Traveling Fellowship Grant.•
Melody Asukile is a Zambian neurology resident in Cape Town, South Africa.