Montreal plays host to the WCN 2023 Oct. 15-19.
  The XXVI World Congress of Neurology (WCN 2023) will allow us to collaborate with thousands of peers from across the world, witness the best scientific and teaching programs and ground-breaking research. Taking place in Montreal, Canada, and accessible online, between Oct. 15-19, 2023, this event will offer many opportunities to broaden your knowledge and exchange ideas.
A Diverse Array of Sessions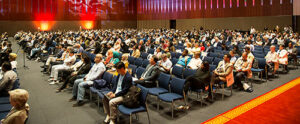 WCN 2023 will feature an impressive lineup of sessions that cater to the diverse interests and expertise of neurology professionals. Attendees can look forward to engaging in the following exciting and novel sessions:
Presidential Symposia: Delve into cutting-edge topics and insights presented by leading experts in the field.
Regional Symposia: Explore regional perspectives and unique challenges in neurology from across the world.
Plenary Lectures: Gain valuable insights from distinguished speakers who will share their expertise and research findings.
Teaching Courses: Enhance your knowledge and skills through specialized teaching courses.
GNA Meeting: Connect with the Global Neurology Alliance and participate in discussions shaping the future of neurology.
Free Communications: Present and discuss your own research and discoveries with fellow neurology professionals.
Joint Sessions With Other Societies: Collaborate and exchange ideas with professionals from related fields.
Coffee Talks Sessions: Engage in candid conversations with current and past WFN leaders as they discuss topics like collaboration between WFN and WHO.
Young Neurologist Sessions: A dedicated space for emerging talents in neurology to network and learn from experienced peers.
Meet With Plenary Speakers: Interact with keynote speakers and engage in thought-provoking discussions.
Patient Day & Patient Forum: Gain insights into patient perspectives and participate in discussions about patient care.
AI Session and More: Stay updated on the latest advancements in artificial intelligence applied to neurology.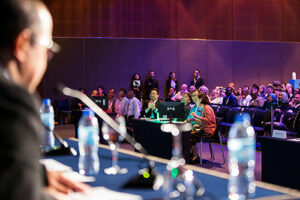 Tournament of the Minds
The 10th Tournament of the Minds, a highlight of WCN, will once again blend education and entertainment. This unique event will explore various aspects of neurology in an engaging and interactive manner, offering attendees an opportunity to test their knowledge and problem-solving skills.
Meet Us at the WFN Booth
Meet WFN staff and trustees at the WFN booth in the exhibition hall.
Five Days of Scientific Excellence
WCN 2023 promises five exhilarating days filled with inspiring scientific experiences. Attendees will have the privilege of interacting with a global community of neurology professionals, fostering meaningful connections, and sharing their expertise.
With more than 2,300 abstracts submitted, the XXVI World Congress of Neurology stands as a testament to the enthusiasm and dedication of neurology professionals worldwide. Whether you are a seasoned expert or an emerging talent, WCN 2023 offers a remarkable platform to collaborate and learn.
Mark your calendars for Oct. 15-19, 2023, and join us in Montreal and online for this exceptional gathering of minds in the world of neurology. •