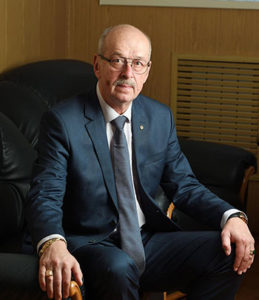 Prof. Sergey Lobzin, head of neurology chair named after Academician S.N. Davidenkov died unexpectedly on Oct. 19, 2021, at the age of 63.
Prof. Sergey was born on July 9, 1958, in Kronstadt, the town and naval base on Kotlin Island, just west of Saint Petersburg, Russia. He graduated from the Military Medical Academy named after S. M. Kirov, the oldest higher education institution of military medicine in the Russian Federation in 1981.
On Aug. 18, 1982, he married Irina. Subsequently, he had two of his beautiful daughters, who were the most important part of his life.
After he served in the Navy, he specialized in neurology, and then was sent to continue serving in Afghanistan, where he was a military neurologist in real combat conditions. In 1993, Prof. Lobzin received his PhD degree in medicine and continued his scientific activities in different areas of neuroscience, paying the greatest attention to angioneurology. In 2006, he was titled as a professor and worked in the Military Medical Academy.
Prof. Lobzin completed military service with the rank of colonel. Further, he has headed the chair of neurology named after Academician S.N. Davidenkov since the foundation of North-Western State Medical University. He was also vice dean of the Therapeutic Faculty of the North-Western State Medical University named after I.I. Mechnikov, a member of the Presidium of the All-Russian Scientific Society of Neurologists, a member of the Presidium of the North-Western Society for the Pain Study, and a member of the World Federation of Neurology and the European Academy of Neurology, academician of the Petrovskaya Academy of Sciences and Arts.
Prof. Lobzin will be forever in our hearts as an honest, friendly, cheerful, and optimistic person, as well as the scientist with great creative potential and organizational skills. He trained many qualified neurologists. He was the author of many scientific papers (more than 300), books, and methodological tutorials for students and residents of neurology.
He began and actively developed close scientific and practical cooperation of the team headed by him as neurology chair with leading scientists from all over the world. The annual congress "Davidenkov Readings," held under his brilliant leadership, has become a remarkable event in Russian scientific life. World famous neurologists took part in congresses with lectures. Every year, the "Davidenkov Readings" attracted an increasing number of neurologists and neuroscientists from the Russian Federation and other countries.
The sudden and tragic death of Prof. Lobzin is an irreparable loss not only to his family and colleagues, but also to the entire Russian scientific and medical society. The memory of this great scientist, teacher, mentor, and friend will remain in the hearts of his colleagues, friends, and followers forever. •