The Tokyo Metropolitan Institute of Medical Science (TMiMS) began its operations in April 2011 as a new institute integrating the formerly independently operated three institutes; the Tokyo Metropolitan Institute for Neuroscience, Tokyo Metropolitan Institute of Psychiatry, and Tokyo Metropolitan Institute of Medical Science. The Laboratory of Neuropathology (LONP) in TMiMS manages the neuropathological assets of both the former institutes and the brand new one.
LONP has created a digital archive of normal and pathological images of the human central nervous system, and operates Essential Brain Anatomy & Neuropathology (EBA&N) that can be viewed at: https://pathologycenter.jp/english/en_index.html
This system was awarded the Tokyo Metropolitan Association of Medical Welfare and Health Excellence Award in 2014 and the Tokyo Metropolitan Government Staff Award (Governor's Award) in 2016. In 2017, this website was certified as an intellectual property  of TMiMS.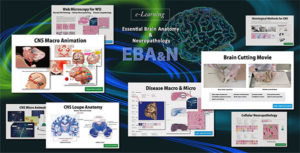 EBA&N consists of various whole slide images (Cellular Neuropathology, Disease Cytopathology, Normal Histopathology, Muscle Diseases), in addition to brain cutting videos and many photographs. It is very easy to understand because the commentary is written directly on the images and videos, not as footnotes.
We are pleased to issue an individual account to those who wish to view it, so please apply by using the application form in the sample room on the EBA&N site. Registration is completely free. No special browsing software is required. We welcome anyone interested in neuroanatomy and neuropathology. •