This year's World Brain Day was celebrated on July 22, 2017. The prior World Brain Day topics were aimed at epilepsy and dementia, and this year it was aimed at stroke. We partnered with the World Stroke Organization (WSO), which puts great global effort into the prevention and treatment of stroke.
India
World Brain Day was celebrated with great enthusiasm on July 22 in Nagpur, India, where a public education program on stroke was presented. The program was inaugurated by Nandatai Jichkar, Nagpur's mayor.
Chandrashekhar Meshram, MD, highlighted the importance of World Brain Day and public education activities. He also explained the risk factors for stroke and identified steps to take for stroke prevention. Dr. Dinesh Kabra spoke about symptoms of stroke and its management. Dr. Sheetal Mundra stressed stroke rehabilitation, while Dr. Sudhir Bhave highlighted the psychiatric problems associated with stroke and ways to cope with it.
Following the presentations, they screened 1000 to 1, an educational movie based on the inspiring story of Cory Weissman. The movie is about a first-year college basketball player who suffers a stroke due to an intracerebral hemorrhage secondary to rupture of an arteriovenous malformation. Weissman overcame the stroke to return to the basketball court.
After the movie, Dr. Meshram reviewed the important neurological aspects covered in the movie. The overarching message to the general public was to never give up when dealing with stroke or any neurological disorder. Dr. Jabbar Patel, renowned film director, and Samar Nakhate, the former dean of the Film and Television Institute of India, interacted with the audience and explained several of the movie's finer aspects.
Dr. Meshram also gave a detailed interview on All India Radio, detailing various aspects of stroke.
After World Brain Day, the public awareness activity extended through Tropical Neurology Week. Dr. Meshram had written articles for newspapers in English and local languages on litchi encephalopathy, rabies, neurocysticercosis, Zika virus, arsenic toxicity, scrub typhus, and mosquito-borne diseases. Print media followed the campaign with great interest, with a whopping 48 publications during this period. The World Brain Day and Tropical Neurology Week activity was informative and educational, and created a lasting, positive impact.
Moldava
By Vitalie Lisnic, MD
In Moldova, stroke is the second-leading cause of death and the main cause of disability. The annual mortality rate from stroke is 168 per 100,000 citizens. To reduce stroke's impact, the nation's neurologists embraced the theme of World Brain Day 2017, "Stroke is a brain attack: Prevent it and treat it."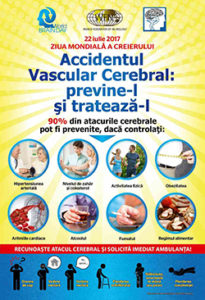 The Society of Neurologists of the Republic of Moldova developed a poster to increase awareness of stroke risk factors and symptoms among the population. The country's 300 neurologists take care of stroke patients. But measures to prevent stroke, recognize stroke symptoms and signs, and hospital admission with adequate thrombolytic treatment are still inefficient.
The poster consists of two parts. The first part is related to prevention of stroke risk factors because research shows that 90 percent of strokes can be prevented. The second part is dedicated to recognizing the first symptoms of stroke.
The risk factors highlighted are arterial hypertension, glucose and cholesterol levels, inadequate physical activity, obesity, cardiac arrhythmias, alcohol consumption, smoking, and diet.
The symptoms of stroke highlighted are headache, blurred vision, speech disturbances, balance problems, weakness, and numbness in the upper and lower limbs, and loss of consciousness. In acute cases, emergency medical care should be called immediately.
The content of the poster was approved by the Ministry of Health and distributed to the medical community. It was sent electronically to all neurologists in hospital and ambulatory settings. More than 300 copies were printed and placed in inpatient and outpatient departments, physicians' offices, classrooms for medical students and residents, and lecture halls.
The poster received thousands of likes on Facebook from physicians and patients. In their weekly conferences, hospitals were told about World Brain Day and the importance of cerebrovascular pathology, treatment, and prevention among the citizens.
Vitalie Lisnic, MD, is a professor at Moldava State University of Medicine and Pharmacy at the Department of Neurology.
Myanmar
By Win Min Thit
Myanmar neurologists celebrated World Brain Day by distributing World Stroke Organization promotional materials to patients and caregivers. The effort built on the World Brain Day 2017 theme: "Stroke is a brain attack: Prevent it and treat it."
The materials were translated and distributed by neurologists at the Department of Neurology at Yangon General Hospital in Yangon, Myanmar. We developed a health education talk on stroke, stroke risk factors, prevention, and management. We also showed a health education video on stroke, which we developed at our last World Stroke Day celebration. 
Dr. Win Min Thit is professor and head senior consultant neurologist at the Yangon General Hospital's University of Medicine Department of Neurology in Yangon, Myanmar, and president of the Myanmar Neurological Society.
Pakistan
By Dr. Abdul Malik
World Brain Day is an initiative of the World Federation of Neurology (WFN). It is observed annually for increasing awareness, prevention, and advocacy about brain diseases. World Brain Day is observed in 119 WFN member countries, including Pakistan, every year. Four years ago, the WFN decided to observe the day to create awareness about neurological disease on a global scale.
This year, WFN member countries observed World Brain Day on July 22. Activities were held in all four provincial headquarters as well as in rural cities across Pakistan. This year's focus for World Brain Day was "Stroke (FALIJ)," and the theme of the campaign was "Stroke is a brain attack: Prevent it and treat it." In this vein, free stroke screening camps, awareness seminars, press conferences, and awareness walks were held across the country.
This year's World Brain Day activities in Pakistan were a coordinated effort of the Pakistan Stroke Society and the Neurology Awareness Research Foundation, with the cooperation of Al-Khidmat Foundation and the largest doctors body in Pakistan, the Pakistan Islamic Medical Association. Efforts were made to create the utmost awareness about stroke.
There was a mega news briefing for all print and electronic channels at a local hotel on July 20. Speaking were Professor Shaukat Ali Khan, the former President of the Pakistan Society of Neurology; Professor Muhammad Wasay, president of the Neurology Awareness and Research Foundation (NARF) and the Pakistan Stroke Society; Professor Khalid Sher, Head of Neurology at Jinnah Hospital; Professor Arif Herekar, head of the Neurology Department of Baqai Medical University; Dr. Ahmed Salman Ghori, president of the Pakistan Islamic Medical Association, Sindh; Dr. Syed Tabassam Jafery, president of the Al-Khidmat Foundation, Sindh; Dr. Maimoona Siddiqui, vice president of the Pakistan Stroke Society; and Dr. Abdul Malik, assistant professor of Neurology, General Secretary Pakistan Stroke Society & NARF, at a press briefing held in connection with World Brain Day 2017.
There were 14 free stroke screening camps held across Sindh province, specifically the rural areas where there is no such awareness and even a lack of neurologists. Almost 1,300 people received free screening facilities from these camps.
Three press conferences and five public awareness walks were organized on July 22 in different Pakistani cities. News coverage as well as articles were published in almost 55 different local and national newspapers along with the participation on different electronic media shows.
Awareness posters were displayed across the country in almost all major hospitals, and roadside Panaflex streamers were displayed for the general public. Three formal press releases were issued related to the activities of World Brain Day 2017.
All activities were uploaded with pictures on the Facebook page. Interviews and different academic activities were displayed on social media. In different local languages, social media messages for the general public were issued in collaboration with the web-based channel.