By Vanessa Benjumea-Cuartas, Medellín, Colombia
During my visit to the Montreal Neurological Institute and Hospital, everything was wonderful from beginning to end. I submitted a special request in order to do my fellowship in the epilepsy department because most of my patients in Colombia have this diagnosis. I really love to help patients and their relatives with epilepsy.
The positive response was immediate, and Dr. Andrea Bernasconi and Dr. Anne-Louise Lafontaine allowed me to spend the entire month in the epilepsy department, doing different types of academic activities.
These included:
Reading EEG and video EEG every day with different physicians and listening to their points of view.
Attending the epilepsy meetings to discuss cases of patients admitted to the video/EEG unit.
Attending the first International Training Course on Neuroimaging of Epilepsy. For this, I am deeply grateful to Dr. Bernasconi for allowing me to attend the course for free.
Attending the academic meeting with the epilepsy fellows every Friday. I had the opportunity to give a lecture about the new classification of epilepsy and seizures proposed by the International League Against Epilepsy, discussing different scenarios and cases.
I met wonderful people who welcomed me with open arms, including the doctors. Those people include Drs. Neda Ladbon-Bernasconi, Bernasconi, Elaine Kobayashi, Francois Dubeau, Jean Gotman, Martin Veilleux, Eva Andermann, and Boris Bernhardt. Others I worked with included epilepsy fellows, EEG technicians, and general people from the hospital, such as the administrative staff and the librarian. It also was a joy to meet people from Asia and South America — mainly from Argentina, the country where I lived for a year while I was doing my epilepsy fellowship.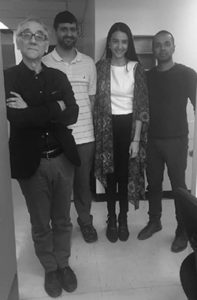 Having the opportunity to perform training like this opens the mind in terms of academic and social skills. It allowed me to explore different approaches to the clinical questions of patients with epilepsy that arise in the course of daily patient care. It allowed me to learn how countries with a better economic background than mine solve different clinical questions because they have the resources to solve the smallest details. At the end, the real challenge is to come home to try to figure out what do with what we have.
Growing up in less privileged countries, such as Colombia, can be a challenge. However, it is clear to me after all of these years that with effort and dedication I can always achieve what I really want.
My educational pursuits would not be possible without generous support, like this scholarship. Thank you to the WFN and the Canadian Neurological Society for enabling this opportunity! •