WFN Training Center Report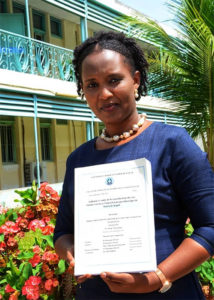 My name is Ndayisenga Arlène, a Burundian resident in Rwanda. I received my bachelor of medicine and bachelor of surgery in 2012 at the University of Rwanda. Working at the neuropsychiatric hospital of Ndera at Kigali, I received a WFN scholarship in 2017 to attend the WFN Training Center at Cheikh Anta Diop University in Senegal. I recently finished my training and returned working as the fifth neurologist in Rwanda.
I would like to thank the World Federation of Neurology for granting me a scholarship to specialize in neurology. It was a great opportunity for me to have been chosen as the recipient of this scholarship.
My four years of training in neurology at Dakar were enriching in my learning.
The first two years were focused on the follow-up of inpatients, where stroke was the leading cause of hospitalization.
The professors' visits, the good collaboration between DES "Diplômes des Etudes spécialisées" and hospital interns as well as the supervision of young students in general medicine allowed me to broaden my knowledge of neurological pathologies and their short- and long-term management.
The third year was focused on neurophysiology with three months of EEG and the other three months on EMG, combined with outpatient consultations and duties in the department. This allowed me to know the fundamental bases of neurophysiology, which is really an indispensable branch in neurology on epilepsies and pathologies of the peripheral nervous system.
Other rotations such as neuroradiology and psychiatry were done in the fourth year. I have also done a few months at Kigali (Rwanda) in the neurology department of Ndera neuropsychiatric hospital where I took the opportunity to do my data collection for my thesis topic. The fourth year ended with the defense of my thesis.
I extend my sincere thanks to the professors and assistants at Ibrahima Pierre NDIAYE neuroscience clinic for their investment in my learning, whether by participating in their outpatient consultations, in hospitalization, but especially in the various course presentations where they supervised me.
To all the staff of the neurology department of CHNU de Fann, I say: Thanks for the teranga!
To the WFN, thank you for investing in my future. I will do my best to achieve my academic and professional goals.
Please accept the expression of my highest sentiments. •