By Chandrashekhar Meshram, Nirmal Surya, U Meenakshisundaram, and Gagandeep Singh.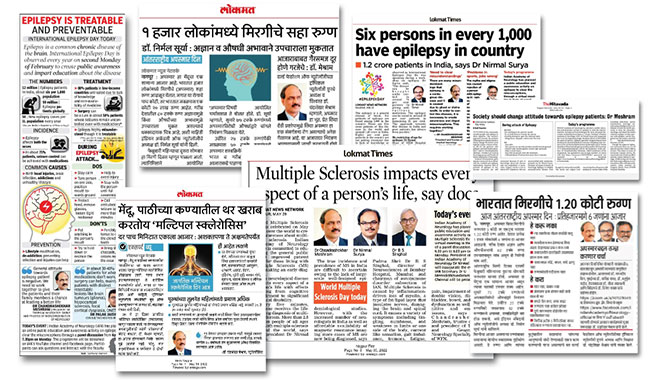 The Indian Academy of Neurology is highly committed to public education and awareness activities regarding neurological disorders. It carries these events throughout the year. The idea is to educate general public about the disorders in order to help them for early diagnosis and better patient care. In view of the COVID pandemic, these activities were organized as virtual meetings and were well attended. The audience also got the opportunity to interact with the experts.
IAN President Nirmal Surya inaugurated the events. National coordinator for IAN public awareness programs, Chandrashekhar Meshram, had prepared and released the press notes and organized the sessions. Articles were published in leading newspapers. Some sessions were also organized in regional languages.
World Neglected Tropical Diseases Day – Jan. 30
NTDs are widespread in the world's poorest regions, where water safety, sanitation, and access to health care are substandard. NTDs affect over 1 billion people globally and are caused mostly by a variety of pathogens including viruses, bacteria, parasites, fungi, and toxins. Gagandeep Singh, president-elect of IAN, Manish Modi, Shripad Pujari, Devashish Ruikar, Rajesh Verma, and Chandrashekhar Meshram were the expert panelists. Rahul Kulkarni, chair of Tropical Neurology subsection of IAN, was the moderator.
International Epilepsy Day – Feb 14
Epilepsy is a social stigma and the attitude of the community toward people with epilepsy is negative. Although epilepsy can be controlled by medicines in 75% of people, there is a treatment gap of 80% in those living in low middle income countries due to lack of knowledge and unavailability of medicines. Sangeeta Rawat, Chaturbhuj Rathod, Sita Jayalakshmi, and Dinesh Nayak participated in panel discussion. IAN Secretary U Meenakshisundaram moderated the session. Programs were also organized regionally by Gautam Ganguly, M A Aleem, K Ummer, and U Meenakshisundaram.
World Tuberculosis Day – March 24
Tuberculosis is the deadliest infectious disease killer and is endemic in 22 countries. The theme for the year is "invest in TB to save lives." About one lakh cases of TB meningitis are diagnosed each year with mortality of about 30%. Sarosh Katrak, Ravindra Kumar Garg, Rohit Bhatia, and Thomas Lype interacted with moderators Rahul Kulkarni and Manish Modi to highlight different aspects of CNS TB.
Purple Day – March 26
Purple Day is an international grassroots effort dedicated to increasing awareness about epilepsy worldwide. Mamta Bhushan Singh, Ashalata, Amit Haldar, and Jayanti Mani participated in the event moderated by Sita Jayalkshmi. M A Aleem's interview was published in the newspaper.
World Autism Awareness Day – April 2
Autism Spectrum Disorders are on the rise, and one out of 150 children may suffer from the same. A child who has difficulty in communication, difficulty in socialization, and peculiar traits like repetitive speech and behavior, usually should be suspected for autism. It is important to diagnose and intervene early. The condition is four times more common in boys as compared to girls. Environmental and genetic factors may be responsible.
There is no cure for autism but through a multidisciplinary team approach, patients can be helped to a great extent. Vrujesh Udani, Alka Subramanyam, Shefali Gulati, Koyeli Sengupta, Sonal Chitnis, Trupti Nikhalje were the panelists. Pediatric Neurology Subsection Convener K P Vinayan moderated the session. Priyadarshini Raut, parent of autistic child, narrated her experiences and triumph over the condition of her son who became an engineer and is working for a software company.
World Parkinson's Day – April 11
This day symbolizes a time to raise awareness and advance research toward better therapies and a cure for Parkinson's disease (PD). There are about 9 million patients with Parkinson's Disease worldwide. With increase in life expectancy, the prevalence of this neuro-degenerative disease is on the rise.
Sanjay Pande, Rajinder Dhamija, U Meenakshisundaram, and Sumit Singh shared their views and interacted with movement disorder subsection chair Achal Shrivastava and convener Ravi Yadav.
World Multiple Sclerosis Day – May 30
Every five minutes, someone receives the life-altering diagnosis of multiple sclerosis. More than 2.8 million people of all ages live with multiple sclerosis around the world. This neurological disease impacts every aspect of a person's life, with effects ranging from cognitive impairment to significant physical disability. Early diagnosis and access to proven disease-modifying treatments are vital to improving patient quality of life and significantly halting disease progression. Dheeraj Khurana, Lekha Pandit, R. Suresh Kumar, and Kunal Bahrani were the panellists while Manish Mahajan moderated the session.
IAN is planning to celebrate World Brain Day on July 22 in grand way with 100 activities over the week. •
Chandrashekhar is the co-opted trustee of the WFN, U Meenaksshisundaram is IAN secretary, Gagandeep Singh, is president-elect of IAN, and Nirmal Surya is IAN president.