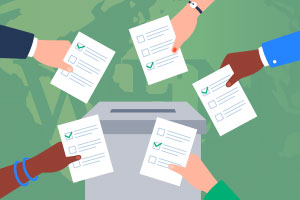 In March, the Nominating Committee of the WFN invited nominations for the positions of:
Secretary General [4-year term] 
To take office from Jan. 1, 2023
Position vacated by Prof. Dr. Wolfgang Grisold

Candidates (in alphabetical order)
Marianne de Visser
Steven Lewis
Tissa Wijeratne

One Elected Trustee   [3-year term]
To take office immediately following the council of delegates meeting.
Position vacated by Dr. Steven Lewis upon the end of his second term of office

Candidates (in alphabetical order)
Minerva López Ruiz
Chandrashekhar Meshram
Bo Norrving
Mohammad Wasay
As in the previous two elections—2020 and 2021—voting will take place by remote online ballot. This method of voting enables all member societies to vote in the elections, regardless of whether or not they are able to attend the Council of Delegates meeting, but also reduces the impact that adverse conditions, such as differences in time zone or difficulties caused by COVID restricted travel, may have to sound decision-making when voting.
Voting will take place between Oct. 3-16, 2022, before the WFN AGM Council of Delegates meeting.
Further information on how to vote, including an instructional video, will be sent out to WFN member societies on Sept. 5 together with online registration to attend the AGM.
The results of the voting will be announced during the Council of Delegates meeting. •