Aaron Berkowitz, MD, PhD
María Jimena Alemán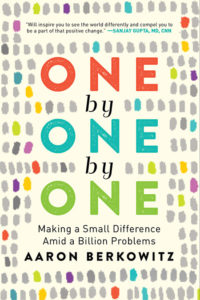 Over this past year, we have all come to wonder what we can do to make a difference in the face of problems that seem so overwhelming. When we think about the scope of the pandemic and other global health issues, the devastating numbers are heart breaking, and it's easy to lose sight of the individual people and stories behind the statistics. In Aaron Berkowitz's new book, "One by One by One," he shares with us the lessons he learned as he tried to make a small difference by helping one individual at a time amid suffering measured in billions.
As a young neurologist, Berkowitz travels with the NGO Partners in Health to Haiti. After the earthquake in 2010, Partners in Health had built the largest solar-powered hospital in a low-income country anywhere in the world as part of their mission to "bring the benefits of modern medical science to those most in need of them and to serve as an antidote to despair."1
Aspiring to live up to these words, Berkowitz is eager to help his colleagues in Haiti, who inspire him with their incredible devotion to caring for their patients under the most challenging circumstances. Through the book, we learn about the dire consequences of life and medical care in Haiti. Although Berkowitz was one of 100 neurologists at the Brigham and Women's Hospital in Boston, in Haiti, there was one neurologist for more than 10 million citizens.
There, he meets Janel, a 23-year-old man with the largest brain tumor he had ever seen. Working against impossible odds, Berkowitz tries to save Janel's life by arranging for him to have brain surgery back in Boston. As new challenges and unexpected events arise, we learn not only about Janel's journey, but also about Berkowitz's struggle to find the courage to do what is right despite many adversities.
"One by One by One" is a story of juxtapositions. Big problems and bigger ideals. Poverty and abundance. Naivete and hope. Triumphs and failures. Through a humble and honest view of global health inequities, Berkowitz takes us onto the front lines of working in global neurology from the field's life changing possibilities to its complex challenges. While he provides more questions than answers, his insightful and thought-provoking reflections on ethical dilemmas will widen your view of the world.
This story is set to become a favorite for readers who admire the work of Atul Gawande and Oliver Sacks. Filled with inspiring and humorous passages, it is a book that is as enjoyable as educational.
Written with moving and powerful Haitian Creole proverbs, such as men anpil chay pa lou (many hands make the burden lighter) and tout moun se moun (every person is a person), this story's teachings will undoubtedly resonate with you long after you've put the book down. •

María Jimena Alemán is currently a medical student at Universidad Francisco Marroquín in Guatemala. She is interested in global neurology and health equity.