By Wolfgang Grisold, on behalf of the WFN.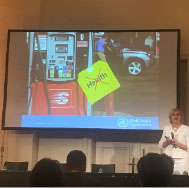 The Austrian World Summit R 20 took place May 15, 2018, at the Imperial Palace in Hofurg. This was a high-level meeting dedicated to the environment. It was organized by the Schwarzenegger Institute and members of the Austrian government.
High-ranking speakers were international, and included Antonio Guterres, U.N.; Erna Solberg, Prime Minister of Norway; L.L. Rasmussen, Prime Minister of Denmark; Maros Sefcovic, E.U. commission; Jane Godall, U.N. Messenger for Peace; Li Yong, UNIDO; and Fran Pavley, former California state senator. The Austrian Chancellor S. Kurz gave an opening speech, which was briefly interrupted by a flash mob of environmental activists. The Austrian President Van der Bellen and Arnold Schwarzenegger gave keynote lectures.
Opening Program
All main sessions had keynote speakers and panel presentations. The theme was introduced by a dramatic video and sound presentation, showing effects on the environment and climate in many areas of the world. The U.N. secretary affirmed the need for the protection of the environment. Many speakers lamented the fading effects of Paris, and the new policy of the U.S. in ignoring the effects of environmental damage and global warming.
In his keynote address, Schwarzenegger emphasized that local and regional governments are powerful and need to be empowered. As an example, he cited California with a decrease in carbonization. Despite the fear that these environmental activities would harm the state the economy is booming.
Home pollution in the developing world was another important topic. In many countries, burning wood and coal indoors creates significant pollution. This also refers to water, which often needs to be boiled with energy-consuming and polluting energies to avoid infections.
The Vice Mayor of Beijing talked on its successful fight on smog. The town of Katovice, Poland was presented as a successful campaign. Katovice is a traditional miners' town that had been severely polluted and had several successful interventions to restore the environment. By the end of this year, another environment summit will be hosted there.
Among the examples of successful campaigns was an inspiring lecture by Mr. Piccard, who finally successfully navigated a trip around the world in an sun-powered electric plane.
The afternoon sessions had main topics, such as sustainable investments, from action to transaction, building cities in the future, interactions of cities and surroundings, smart energy solutions, sustainability and tourism, and strategies to tackle pollution, in concurrent sessions.
I attended "Strategies to Tackle Pollution," which was chaired by Mrs. Neira from the public health and environment department of WHO. During this talk, she addressed health issues. I was able to point out that the WFN has a research group on environment and emphasized the importance of stroke and the environment. More than half of the world's population has no access to health care. (A survey on headache in Africa assumes that 80 percent of patients are treated by healers, also with no access to conventional modern  medicine.)
Other topics included renewable water preparation methods, European law in regard to the right of clean air, and a lecture by Fran Pavley, former California state senator, on the development of the environmental movement and success in California. I was also able to speak personally to Mrs. Pavley and introduce her to the activities of the WFN.
This was a high-ranking, international meeting on environments, which emphasizes the importance of the WFN`s choice of the topic for WBD 2018. Regrettably there was little presence of doctors or medical associations. Hopefully the connections with the WHO and the Schwarzenegger Institute will be useful for the WFN. •