by Robert P. Lisak, MD, and John D. England, MD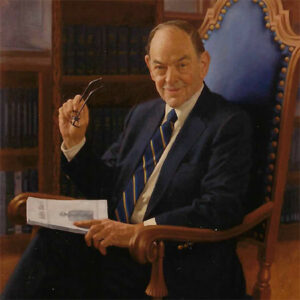 When Arthur K. Asbury, Van Meter professor of neurology emeritus at the Perelman School of Medicine of the University of Pennsylvania, died on Oct. 19, 2022, at the age of 93, the neurologic world lost a true giant, and many of us lost a friend and mentor.
Art was born in Cincinnati to a medical family. He was raised in Cincinnati and Nicholas County, Kentucky, where his family bred horses, including the 1954 Kentucky Derby winner, Determine. He received his BS in agriculture from the University of Kentucky, and after two years of active service in the army, decided on a career in medicine.
Art graduated first in his class from the University of Cincinnati School of Medicine and then trained in medicine, neurology, and pathology at the Massachusetts General Hospital/Harvard Medicine. It was there as a faculty member he began his research into diseases of the peripheral nervous system, including several important papers on diabetic neuropathies and the classic seminal paper, co-authored with Barry Arnason and Raymond Adams, on Guillain-Barre syndrome.
Art moved to the University of California, San Francisco, as vice chair and chief of neurology at the Ft. Miley Veterans Affairs Hospital. Subsequently, he was appointed professor and chair of neurology at the University of Pennsylvania (Penn) in 1973, arriving there in 1974. He served as chair until 1982. During that period, he rapidly expanded and enhanced the department by building on the foundation provided by his predecessors, G. Milton Shy and Lewis "Bud" Rowland.
After stepping down as chair, he continued to be active nationally and internationally in academic neurology. Over the next several decades, he remained one of the world's leading figures in the field of peripheral nerve neurology and clinical neurology.
In addition, at the University of Pennsylvania, he served as interim dean and executive vice president for health affairs on two occasions as well as serving at different times as associate dean for research and associate dean for faculty affairs. Other institutions and societies benefited greatly from Art's remarkable administrative and leadership skills.  In the American Neurological Association (ANA), he served as program committee chair, membership advisory committee chair, and president. He was also a vice pPresident of the World Federation of Neurology (WFN), and served as editor-in-chief of the Annals of Neurology, the official journal of the ANA. He served in many leadership positions in the College of Physicians of Philadelphia, including president and interim CEO. His papers from his time at the University of Pennsylvania are in the college's historical library.
Arthur Asbury's scientific contributions in the field of peripheral nerve disease are remarkable for their quality, breadth, and impact. Notable contributions include seminal papers on inflammatory demyelinating polyneuropathies (especially Guillain-Barre syndrome and chronic inflammatory demyelinating polyneuropathy), diabetic neuropathies and neuropathies associated with renal disease.  He was the author of over 230 articles, reviews, and chapters as well as serving as an editor and section editor of multiple well-known treatises and books.
Of equal importance was his role as a thought leader, teaching us how to approach the diagnosis and management of patients with peripheral neuropathy in a logical manner. Neurologists and patients are forever in his debt for this. Art served as the principal adviser to Estelle and Robert Benson for the Guillain Barre Syndrome Foundation, which grew to become the GBS/CIDP Foundation International.
Art was a superb teacher and adviser for residents, fellows, and faculty. His mentoring in career development was one of his major accomplishments and was not limited to those at his own institutions. The mentoring also included advice on leadership. Both of the authors of this article, and others, were counseled by Art, a devoted baseball fan, upon accepting positions as chairs: "You don't need to swing at every pitch."  When asked how to create outstanding training programs in neurology, his advice was pithy and timeless: "You just need to recruit excellent people."
Both of us (RPL and JDE) were inspired by him to expand and focus our research on the pathophysiology of peripheral neuropathies.  Although one of us (RPL) has a tremendous aversion to flying, he nonetheless got on a plane so as not to miss Art's wedding to his wife, Carolyn.   Art was instrumental in several major fundraising efforts for medical education, junior faculty development, and research at the University of Pennsylvania and for the Philadelphia College of Physicians.  He and Carolyn endowed the Arthur Knight Asbury MD Professorship in Neurology to be held by the chair of neurology at the University of Pennsylvania.
A listing of Arthur Asbury's honors would fill an entire book. Notable mentions include election to the Institute for Medicine (now named the National Academy of Medicine), The Royal College of Physicians (by distinction), IS Ravdin Master Clinician Award, the Lindback Award for Teaching Excellence, and Honorary Doctor of Sciences from the University of Pennsylvania. He was elected an Honorary Member of the American Neurological Association, the American Association of Neuromuscular & Electrodiagnostic Medicine, the Association of British Neurologists, and the European Academy of Neurology.  He also received the Daniel Drake Medal and the Distinguished Graduate Award from the University of Cincinnati, the Lifetime Achievement Award from the World Federation of Neurology, and the Meritorious Service Award from the College of Physicians of Philadelphia.
Arthur Asbury is survived by his wife Dr. Carolyn Asbury, his children (Dana, Lyndia and William) with his first wife Patricia Asbury, two grandchildren, and three great grandchildren. We have all lost a most remarkable, inspiring, and gentle individual. •