The WFN, global regions, and the World Federation of Neurorehabilitation
By Tissa Wijeratne, David Dodick, Steven Lewis, and Wolfgang Grisold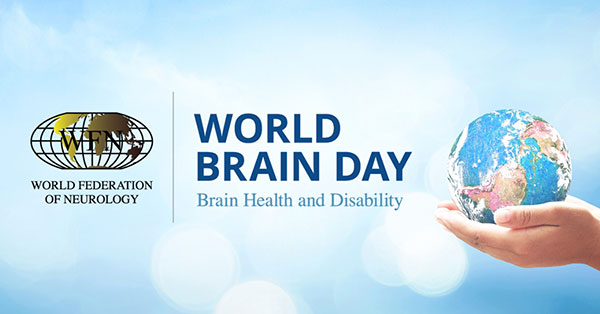 Key Message
World Brain Day (WBD) 2023 jointly with the global regions and World Federation of Neurorehabilitation (WFNR).
Spread the news on Brain Health and Disability, World Brain Day 2023 campaign in your community, hospital, village, and city-region.
Follow us on the WFN website and social media.
Six regional societies: American Academy of Neurology (AAN), African Academy of Neurology (AFAN), Asian and Oceanian Association of Neurology (AOAN), European Academy of Neurology (EAN), Pan-American Federation of Neurological Societies (PAFNS), and the Pan Arab Union of Neurological Societies (PAUNS) will lead regional activities on brain health and disability.
The WFN World Brain Day (WBD) was launched in 2014. Since then, the WFN, jointly with other international societies such as International League Against Epilepsy, World Stroke Organization, the International Headache Society, and the Movement Disorders Society selects a topic with a view to drive home the importance of brain health and promoting better neurological care globally. (https://wfneurology.org/world-brain-day-past-years)
For 2023, the WFN selected Brain Health and Disability, continuing our efforts to drive awareness for brain health, and also aligning with the WHO efforts to fight disability worldwide. Disability can be prevented, rehabilitated, and also needs to be under neurological care in chronic and chronic progressive diseases.
The aim of WBD 2023 is to alert not only its member societies, but also the public on the critical neurological issues issue of disability. The organizing committee will represent the global regions, and we partner with the WFNR..
Member societies of the WFN will receive a toolkit, which includes templates for press releases and educational PowerPoint presentation sets to assist in their local WBD activities and to advocate for brain health and disability. Local press conferences, press coverages (such as print, electronic, radio, TV, YouTube channels) are strongly encouraged to reach the public.
Please join the World Brain Day 2023 campaign for Brain Health and Disability, as this is an important priority.
Correspondence: Prof. Tissa Wijeratne, Chair, Neurology, Western Health, Melbourne, St Albans, Victoria,3021, Australia; Co-Chair, World Brain Day 2023. World Federation of Neurology, Tissa.Wijeratne@wfneurology.org •
Tissa Wijeratne and David Dodick are Co-Chairs of World Brain Day for the WFN. Steven Lewis is Secretary General of the WFN and Wolfgang Grisold is President of the WFN.