WFN Training Center Report
By Aboubacar Nahantchi Abdourahaman
Thanks to the World Federation of Neurology's support, I participated in the University Diploma of Epileptology, organized by the Cheikh Anta Diop University in Dakar-Senegal.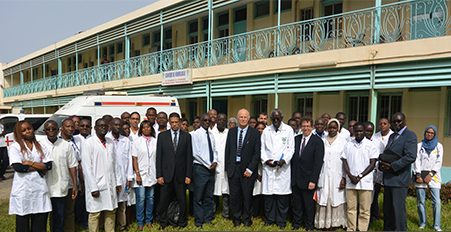 The training took place in the only neurology department in Senegal. I.P Ndiaye Neurosciences Clinic is composed of a hospitalization block, a neuroradiology section, a section of physical medicine and rehabilitation, a neuroreanimation unit, and a neurophysiological exploration unit (EEG, ENMG,EP).
The neurophysiology unit includes two EEG recording rooms with three EEG machines and a replay room with four machines for interpreting EEG plots and an ENMG and EP room. During the training, we received advanced theoretical lessons, and we were involved in the preparation of the different themes developed. The theoretical teaching took place in three seminars (fundamentals on epilepsy, diagnosis of epilepsies, and management of epilepsies).
Each seminar is composed of about 20 topics. For my part, the themes that focused on newborn, infant, and child epilepsy were instructive in my experience as an attending physician in pediatric neurology. Clinically, I attended epileptology and neuropediatric consultations.
Thanks to these, I have gained practical experience both in establishing a diagnosis and in the management of epilepsy. On a neurophysiological level, I attended over a period of six continuous months the learning of the techniques of acquisitions of the EEG traces and interpretation of the EEG traces. Practical learning has been interactive and didactic. Indeed, I had the opportunity and the privilege to be framed on the interpretation of EEG routes by expert teachers in the field. Thanks to these quality frameworks, I have acquired a practical competence on the interpretation of the EEG traces.
Dear committee, your support has been invaluable. Thanks to this training, you have allowed my country, Niger, to have a qualified human resource in epileptology. This training allowed me to considerably improve the management of epileptic patients (especially newborns, infants, and children). By my voice and on behalf of all the people of Niger, I will be eternally grateful to you. •